Elizabeth Warren Trains Her Sights on a New Target
The Education Department is chasing borrowers to repay student loans they may not owe.
By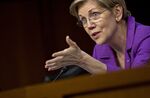 The U.S. Department of Education's debt collectors may be violating the law by collecting on defaulted federal student loan debt that's likely invalid yet owed by "vast numbers" of defrauded for-profit college students, Senator Elizabeth Warren (D-Mass.) charged Thursday.