Disabled Students' Rights Draw U.S. Supreme Court Scrutiny
By
Justices to review Colorado parents' claim school help was lax

Case involves Individuals with Disabilities Education Act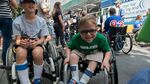 The U.S. Supreme Court will consider how much extra help public schools must provide to students with disabilities, agreeing to hear an appeal from two parents seeking reimbursement for the cost of their autistic son's private school.
The case will mark the first time since 2009 that the court has considered the reach of the Individuals with Disabilities Education Act, which gives educational rights to some 6.5 million children.
At issue is how much school districts must do to meet each child's needs. In the case the justices will take up, a federal appeals court said the Colorado school district need only provide "some educational benefit." The parents say that standard is too lax and doesn't square with the law's broad goals.
"The IDEA seeks to provide children with genuine access to public education," said the parents, identified in court papers as Joseph F. and Jennifer F. "School districts that provide only a just-above-trivial benefit cannot achieve this objective."
Joseph and Jennifer say the Douglas County School District failed meet the needs of their son, Endrew, who attended public school through fourth grade. They say that the school couldn't manage his behavioral issues, which included yelling, crying, and head-banging, and that he made minimal progress toward the academic goals set for him in fourth grade.
For fifth grade, the couple enrolled Endrew in a private school that specializes in educating children with autism. The family then sued, seeking reimbursement.
In rejecting the bid, the Denver-based appeals court called the dispute "a close case."
The Douglas County School District, which serves an area south of Denver, urged the justices not to hear the case. "The decision to impose a higher standard belongs to the legislatures," the school district argued.
The IDEA requires school districts to provide a "free appropriate public education" to children with disabilities. The Supreme Court interpreted that phrase in 1982, but lower courts have diverged on exactly what the 1982 ruling meant.
Some judges have said school districts must provide "meaningful" educational benefits, a more stringent standard that Endrew's parents say would make the difference in his case.
The Obama administration joined the parents in urging the Supreme Court to adopt that standard.
The case is Endrew F. v. Douglas County, 15-827.