Deutsche Bank Still a Buy, Says Rare Analyst With Bullish Rating
by
Kepler Cheuvreux: Deutsche Bank is 'great restructuring story'

Analyst Gaulard cites bank's 'phenomenal operating leverage'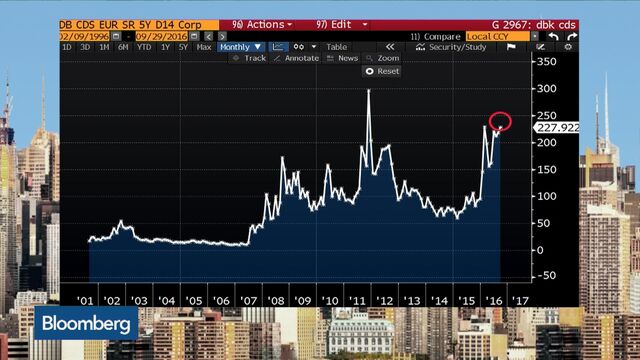 Deutsche Bank AG is a "great restructuring story," and short sellers have helped drive the lender's shares to a record low this week, according to an analyst at Kepler Cheuvreux.
The share-price decline "has been driven by concerns about the bank's credit profile, which we believe are unjustified," Jacques-Henri Gaulard, one of three analysts with a buy rating on the stock, wrote in a note to clients Thursday.
Deutsche Bank Chief Executive Officer John Cryan has been struggling to convince investors that the lender has the funds to deal with legal bills tied to past misconduct, including a request for $14 billion from the U.S. Department of Justice. This week, he rejected speculation that he may seek to raise fresh capital or take a bailout from the German state. Shares have lost more than half of their value this year while the cost to protect against the bank's default has soared.
The Frankfurt-based lender's shares have reached "distressed levels" amid fears over the DOJ request, wrote Gaulard. The U.S. wants $14 billion to settle claims the firm sold fraudulent mortgage-backed securities, a sum that the bank said this month it won't pay.
"Is Deutsche Bank really going bust?" Gaulard wrote. "No. The size of the DOJ settlement is just the cornerstone of all the uncertainties."
Capital Options
The bank "has some options" that will enable it to pay a larger fine than Gaulard's estimate of $6.1 billion without having to raise more funds, he wrote. Cryan, in charge since last year, could stop "aggressively" reducing unwanted assets, Gaulard wrote. The bank also expects a capital boost from the sale of a stake in Huaxia Bank Co., and regulators could help by "watering down" new regulations.
Deutsche Bank shares climbed for a second day, rising 0.6 percent to 10.83 euros at 4:15 p.m. in Frankfurt. The stock has tumbled about 25 percent since Gaulard began coverage with a buy rating and a 12-month target price of 17.85 euros on June 9. The Kepler Cheuvreux analyst now predicts the shares will climb to 13.92 euros within 12 months, a 27 percent gain on the firm's Sept. 28 closing price.
Just three out of 38 analysts tracked by Bloomberg recommend buying the stock, including Neil Smith of Bankhaus Lampe and Simon Herrmann of Wise-owl.com, the data shows. The majority of analysts have a hold recommendation.
Speculation 'Rife'
The "usual speculation" has reappeared "with a vengeance" because of the stock decline and DOJ negotiations, Gaulard wrote. This includes rumors of a bailout, a potential merger with Commerzbank AG and the suggestion that the bank's portfolio of derivatives is an "accident waiting to happen," the analyst wrote.
Such speculation comes from so-called short sellers, or shorts, Gaulard wrote. Short sellers profit by selling borrowed shares and buying them back at lower prices, pocketing the difference. The amount of such wagers has almost doubled to about 3 percent of shares outstanding since the middle of this month, according to data compiled by Markit Ltd. Short bets climbed as high as 4.4 percent in July, the data shows.
"Some market participants have labeled Deutsche Bank 'bust' and speculation is rife," Gaulard wrote. "This phenomenon is a natural reflection of shorts talking their own book."
Deutsche Bank, which houses Europe's largest investment bank, has struggled to adapt to an era of tougher capital requirements and lagging trading revenue. Since laying out his strategy last October, Cryan has cut risky assets, eliminated thousands of jobs and suspended dividend payments to preserve capital.
"Our buy case on Deutsche Bank has been driven by the bank's powerful restructuring potential and its phenomenal operating leverage, provided that market conditions become more favorable," Gaulard wrote.
Before it's here, it's on the Bloomberg Terminal.
LEARN MORE