Denmark Pays $900,000 for Panama Papers in Hunt for Tax Cheaters
By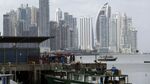 Denmark received information on Danish citizens from the so-called Panama papers after paying almost 6 million kroner (around $900,000) to an anonymous source, the Danish Tax Authority said in a statement Thursday.
The tax authority announced earlier this month it would purchase the information to assist its hunt for tax dodgers. Recent estimates showed that fraud, coupled with mismanagement at the Tax Authority, would cost Denmark as much as $4 billion in lost revenue.
The next step will be to probe the accords and correspondence and other documents Denmark received from the Panama Papers to identify if the government can raise claims to collect missing tax payments, Jim Sorensen, a director at the Tax Authority, said in the statement.
Before it's here, it's on the Bloomberg Terminal.
LEARN MORE