Death, Probes, Family Feud: a Look Back at Lotte Group's Crisis
by and
Sibling rivalry sets off fight for control of conglomerate

Lotte chairman avoids arrest amid corruption investigation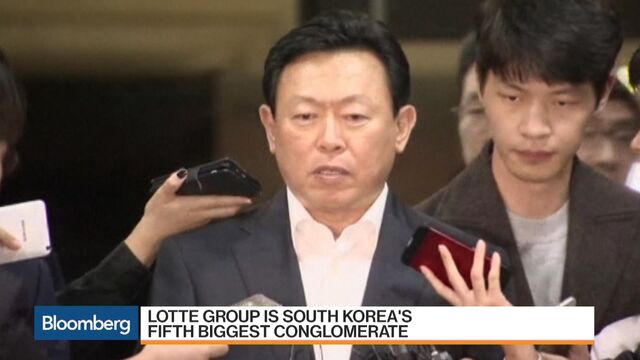 A South Korean court said on Thursday it rejected prosecutors' request to arrest Lotte Group Chairman Shin Dong-bin on corruption charges, bringing some rare relief to a conglomerate that's been in turmoil since last year.
Here's a look at recent troubles faced by the family-run retail giant:
Jan. 2015: The group founder's eldest son, Shin Dong-joo, is dismissed from positions at Lotte affiliates in Japan. His younger brother, Shin Dong-bin, tells reporters at Gimpo Airport that the decision was made by their father, who's the founder of the group.
July 2015: The ousted Shin Dong-joo flies to Japan with his father, Shin Kyuk-ho, to fire senior managers at Lotte Holdings Co. but the unit's board nullifies the dismissals and sidelines the founder to an honorary chairman position, putting Shin Dong-bin in charge.
Oct. 2015: The father, Shin Kyuk-ho, sues his younger son, Shin Dong-bin, and other board members of Lotte Holdings to nullify the patriarch's ouster.
Dec. 2015: The founder's younger sister, Shin Jung-sook, files a court petition questioning her brother's mental capabilities and requests that a legal guardian be appointed.
Feb. 2016: Shin Dong-joo, the oldest son, holds a briefing and shows a video of his 93-year-old father endorsing him to run the retail empire.

March 2016: Shin Dong-joo loses his bid to form a new board of directors at Japan-based Lotte Holdings Co. as a way to regain control of conglomerate. Days later, Shin Kyuk-ho loses his board seat at the group's lodgings and duty-free sales unit Hotel Lotte Co.
June 2016: South Korean prosecutors raid Lotte Group headquarters in Seoul as investigators step-up probe into allegations of corruption. Lotte Group subsequently shelves what may have been a $4.5 billion initial public offering for its hotel unit as corruption probe widens, as well as plans to list its Malaysian petrochemicals business. Lotte also withdraws plans to buy U.S. chemicals maker Axiall Corp., which gets taken over by Westlake Chemical Corp.

July 2016: Sister of Lotte chairman, Shin Young-ja, 73, is arrested and taken into custody on separate charges of bribery and embezzlement related to the group's duty-free sales unit.
Aug. 2016: Vice Chairman Lee In-won, Lotte Group's No. 2 executive and highest ranking non-family member, is found dead just hours before he was scheduled to be questioned by prosecutors. Police say preliminary findings point toward the death being a suicide.
Sept 2016: A South Korean court appoints a law firm as the legal guardian for the father and founder, dealing a blow to his elder son's efforts to regain control of the conglomerate. Shin Dong-bin, the younger son and Lotte chairman, is questioned for 18 hours by prosecutors investigating allegations of embezzlement and tax evasion. Investigators also question his father and estranged brother. South Korea's Fair Trade Commission asks prosecutors to investigate the patriarch, Shin Kyuk-ho, for improperly classifying his holding and his family's control over Lotte affiliates.
Sept. 29, 2016: Seoul Court says it rejected request to arrest Shin Dong-bin, dealing a blow to prosecutors' corruption probe.
Before it's here, it's on the Bloomberg Terminal.
LEARN MORE