Credit Suisse Joins Canada Bears With Call for Interest-Rate Cut
By
Bank lines up along Citi, HSBC that expect easing in 2016

BOC may need to respond to slowdown in inflation, analysts say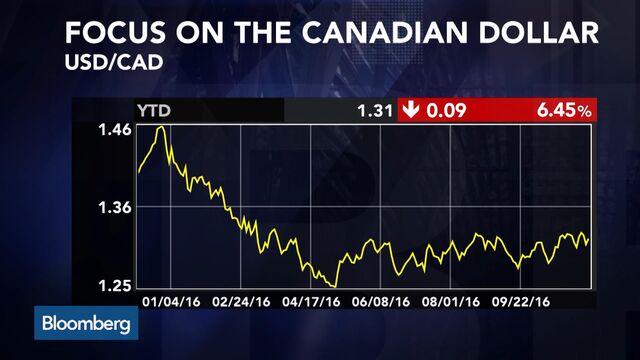 Forecasts for a Bank of Canada interest-rate cut this year are building.
Credit Suisse Group AG joined Citigroup Inc. and HSBC Holdings Plc in forecasting easier monetary policy, possibly as early as next month, amid sluggish Canadian growth and slower-than-expected inflation. The Swiss bank has penciled in a quarter-point cut to the central bank's 0.5 percent overnight target rate and cut its forecasts for the Canadian currency.

The possibility of a rate cut started to creep up after the BOC said on Sept. 7 that risks to inflation had "tilted somewhat to the downside." That shift was ratified by data last week showing the country's inflation rate fell to a 10-month low in August, trailing even the lowest forecast in a Bloomberg survey.
"The language in the recent statement and in recent interviews suggests they might be preparing for a possibility of a rate cut," Alvise Marino, a foreign-exchange strategist at Credit Suisse in New York, said by phone Wednesday. "Now the data needs to support that, and so far, since that latest development, data has been on the dovish side, inflation in particular."
Dollar Weakening
Still, a median of economists surveyed by Bloomberg see the BOC staying on hold this year and through much of 2017. Traders agree. The likelihood of a BOC rate cut by year end was at 18 percent on Thursday, up from 10 percent at the beginning of September, according to Bloomberg data based on overnight index swaps. The bank's next announcement is on Oct. 19.
Credit Suisse expects the Canadian dollar to weaken to C$1.35 per U.S. dollar in the next three months, compared with its previous forecast of C$1.32. It also sees the loonie trading at C$1.35 in a year from now, against its previous call of C$1.34.
The Canadian dollar weakened 0.1 percent to C$1.3099 per U.S. dollar at 11:08 a.m. in Toronto. The loonie rallied 0.9 percent on Wednesday after OPEC agreed to limit crude production, which sent oil prices soaring. The currency is expected to weaken to C$1.32 by the end of the year, according to forecasts compiled by Bloomberg.
David Watt, chief economist at HSBC Bank Canada, who admits his call for an October cut is aggressive, says he's "unconvinced of the underlying trends in the Canadian economy."
Bond Yields
Canada's main inflation rate decelerated to 1.1 percent in August from 1.3 percent in the month prior, while core inflation, which measures consumer prices excluding eight volatile items, slowed to a two-year low of 1.8 percent from July's 2.1 percent, Statistics Canada said. Both readings lagged the lowest forecasts in Bloomberg economist surveys, and analysts predicted overall prices would accelerate on the month instead of slowing.
Government bonds rallied in response with the yield on 10-year notes touching 0.95 percent on Wednesday, the lowest since July.
"The slowdown in inflation was surprising. And that really, really got the market nervous again," said Brian D'Costa, a co-founder of a Toronto-based hedge fund Algonquin Capital Corp. A cut from the BOC is not his base-case scenario, but the bank is closer to a cut than to a hike, he said.
'Pretty Poor'
Toronto-Dominion Bank on Wednesday said it was closing its long position on two-year federal government bonds it had entered on Sept. 2, saying they'd become "marginally too expensive," after yields dropped about nine basis points, Andrew Kelvin, the bank's senior fixed-income strategist, said in a note on Wednesday. Kelvin expects the BOC will stay on hold until "early" 2019.
Bank of Canada Governor Stephen Poloz last week urged the country's policy makers to press ahead with efforts to remove trade restrictions and spend more on infrastructure in order to boost sluggish long-term growth. In a speech this week, Poloz said "it will take three to five years for the economy to restructure itself."
Comments from Poloz in the last couple of weeks suggest the Bank of Canada is still in a "wait-and-see mode," said Dana Peterson, a New York-based economist at Citigroup Global Markets, who expects a cut in the fourth quarter. "The outlook for Canada is pretty poor."