Lead Climbs to 16-Month High as Most Metals Gain on OPEC Cuts
by
An index of mining advances, with gains in BHP, Rio Tinto

LME index heads for longest run of quarterly gains since 2011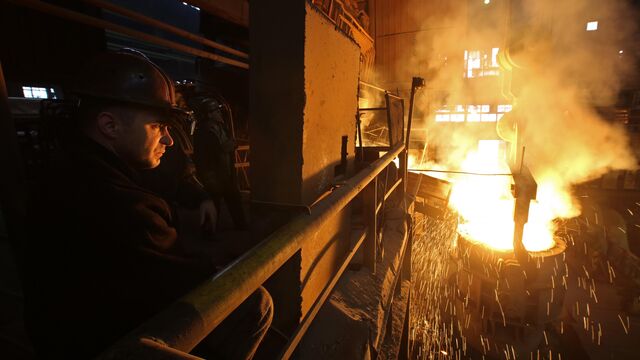 Lead prices climbed to the highest in more than a year as industrial metals advanced on speculation that OPEC's decision to cut output will drive up oil prices. Mining shares also advanced.
Oil rose as much as 6.2 percent on Wednesday and gained 1.2 percent on Thursday. Higher energy prices increase the cost of producing metals and boost investor appetite for index funds that own raw materials. The Organization of Petroleum Exporting Countries announcement also spurred short-covering in metals, Marex Spectron Group said.
An index of six main metals traded in London is heading for a third quarterly gain, the longest rally since 2011, as China's economy improves and investors eye economic stimulus worldwide. Metals are also benefiting from the Federal Reserve's decision last weeks to hold U.S. interest rates near historic lows.
"Good Chinese figures, stronger oil and no rate rise from the U.S. in the near future will help support copper and other metals," Richard Fu, head of Asia and Pacific at Amalgamated Metal Trading Ltd. in London, said by e-mail.

Lead for delivery in three months advanced 3.3 percent to settle at $2,062.50 a metric ton at 5:50 p.m. on the London Metal Exchange. Prices climbed more than 7 percent in four days and reached $2,070.50 on Thursday, the highest since May 2015.
"As oil-price forecasts are raised for 2017, it also lends support to the belief that the markets will see further inflows from real money accounts," Dee Perera, an analyst at Marex Spectron in London, said in an e-mailed note.
A report Friday by Caixin may show manufacturing in China, the world's largest metals consumer, expanded for a third straight month.
In other metals news:
A gauge of 18 large global base metal producers tracked by Bloomberg Intelligence rose 1.8 percent, poised for the highest close since July 2015. BHP Billiton Ltd. and Rio Tinto Plc were among the biggest gainers.
Tin had a sixth straight gain. Prices touched the highest since January 2015 after data on Wednesday showed that inventories on the LME fell to the lowest in eight years.
Copper, aluminum and zinc also gained on the LME, while nickel slipped.
On the Comex in New York, copper futures rose.
Before it's here, it's on the Bloomberg Terminal.
LEARN MORE