Congo Election Body Proposes Two-Year Wait for Presidential Vote
By and
Number of voters not known, electoral commission deputy says

Commission confirms for first time vote delayed until 2018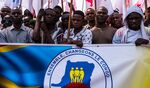 The Democratic Republic of Congo's electoral authority said presidential elections will be delayed until 2018, angering opposition leaders who are demanding President Joseph Kabila step down this year.
The commission "hasn't called elections in 2016 because the number of voters isn't known," Norbert Basengezi Katintima, vice president of the Independent National Electoral Commission, known by its French acronym CENI, told reporters Thursday in South Africa's capital, Pretoria. Voter registration has started in some parts of the country, and the commission will update the voter list in July 2017, he said.
Africa's biggest copper producer, Congo has never had a peaceful transition of power. Presidential elections had been scheduled to take place in November, but were delayed because authorities said they weren't ready. Opposition parties have accused Kabila, in power since 2001 and whose current mandate ends in December, of delaying the vote to
remain in office.
Political Negotiations
Talks between the government and a small number of opposition parties led by Union for Congolese Nation President Vital Kamerhe began on Sept. 1 to discuss the time required for the organization of the vote and the structure of an interim administration under Kabila to run the country until the polls can be held. It's the first time the electoral authority has publicly discussed such a long delay.
"The CENI does not have the right to speak for the Congolese people," Moise Katumbi, the former governor of copper-rich Katanga province and presidential hopeful, said by phone from Paris. "The people are calling for elections, they must not be delayed."
Kamerhe didn't respond to two calls seeking comment.
Congo's largest opposition parties, including the Union for Democracy and Social Progress and a coalition of parties backing Katumbi, have boycotted the talks and are demanding Kabila step down.
The country's powerful Catholic Church has withdrawn from the political negotiations after at least 49 civilians were killed by security forces during anti-government protests last week. The church has called for more inclusive talks and said elections must be delayed for no longer than one year.
Katintima said the government's "main challenge" is funding the elections, which will cost about $1 billion. "Out of that cost no one else from outside has contributed," he said. "That's the true story and the main constraint."
Earlier this month, Justice Minister Alexis Thambwe said the government would fund the elections itself to prevent outside interference.