business
Commerzbank Plans Job Cuts in Biggest Overhaul Since Bailout
By and
Bank plans to reduce 9,600 jobs, about a fifth of workforce

Commerzbank taking costs of $1.2 billion in planned overhaul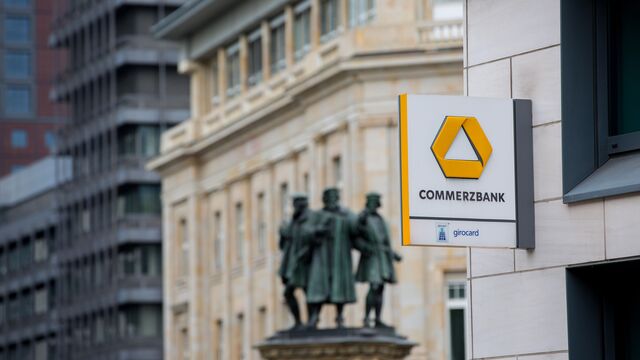 Commerzbank AG Chief Executive Officer Martin Zielke plans to reduce about one in five jobs, suspend dividends and shrink securities trading in the biggest overhaul since the German lender's bailout.
Under the draft plan, Commerzbank will cut 9,600 jobs, merge its Mittelstandsbank, catering to small and medium-sized companies, with the corporates and markets unit and scale back securities trading operations, the Frankfurt-based bank said in a statement on Thursday. The restructuring plan through 2020 will cost about 1.1 billion euros ($1.2 billion).

Zielke, 53, has been under pressure to counter a slump in earnings that forced him to scale back full-year profit targets in August, just three months after taking the helm. Europe's largest banks have been hurt by volatile markets, negative interest rates and tougher regulatory scrutiny, with Deutsche Bank AG CEO John Cryan this week reassuring investors that he doesn't plan to raise capital as he cuts jobs and restructures businesses.
"We have long talked about the need for Commerzbank to cut costs given the benign revenue environment," Nicholas Herman and Andrew Coombs, analysts at Citigroup Inc., wrote in a note on Thursday. "We're encouraged by these developments. However, the profit targets are ambitious and Commerzbank has a poor track record of delivering."
Commerzbank 4.0
The bank released a draft of its so-called Commerzbank 4.0 strategy following a string of media reports over the past week that estimated as many as 10,000 job cuts.
The shares fell 1.6 percent to 5.90 euros at 2:44 p.m. in Frankfurt, erasing earlier gains. The bank has lost about 39 percent of its market value this year. Deutsche Bank, which houses Europe's largest investment bank, has dropped about 52 percent in 2016.

Under previous CEO Martin Blessing, the bank announced measures to eliminate about 5,200 jobs to lower costs and resume dividend payments. The company has struggled to restore investor confidence since its takeover of Dresdner Bank in 2008 forced it into an 18 billion-euro bailout, with Blessing tapping investor demand for high-yielding assets and shrinking a pile of delinquent shipping and commercial real-estate loans.
Dividends Suspended
Zielke, who previously overhauled the consumer business, is halting payments to shareholders again after the lender paid a dividend of 20 cents per share for 2015, its first since 2007. It was expected to reward shareholders 30 cents per share for this year, according to the Bloomberg Dividend Forecast.
Under the latest restructuring plan, Commerzbank will cut costs to 6.5 billion euros, taking the cost to income ratio below 66 percent. The bank targets a common equity Tier 1 ratio, a measure of financial strength, of more than 13 percent by 2020.
To bolster earnings, Commerzbank will focus on private and small business customers as well as corporate clients. While some 2,300 jobs will be created, the restructuring plan will result in the net loss of 7,300 full-time positions. 
At the end of last year, Commerzbank had 14,920 employees at its private customer unit, 5,379 at the Mittelstandsbank and 1,883 at corporates & markets, which houses securities trading, according to its annual report.
'Promising Plan'
"The rough plan presented today sounds promising," said Dieter Hein, an analyst at Fairesearch-Alphavalue with a buy recommendation on the shares. "It looks like Zielke is finally addressing all the issues that the previous management under Blessing had been hesitant to tackle."
The goodwill and intangible assets of the two merged units will cause a writedown of about 700 million euros in the third quarter, which the bank forecasts will result in a loss in that period with a "small net profit" in 2016. Commerzbank is targeting revenue of 9.8 billion euros to 10.3 billion euros by 2020 and a return on tangible equity, a measure of profitability, of at least 6 percent by the end of that year.
"This target is based on the expectation that the interest-rate environment will remain challenging," the bank said in the statement.
Commerzbank, which is still partly owned by the German government, is scheduled to hold an investor day in London on Oct. 4.
(
Updates with reference to media reports in fifth paragraph.
)
Before it's here, it's on the Bloomberg Terminal.
LEARN MORE