Clinton Pushes Democrats to Vote Early in Swing States
By
Iowa opens in-person voting as Trump leads in state polls

Democrat counting on organization, staff to make up ground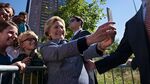 Democratic presidential nominee Hillary Clinton is pushing early voting to try to outrun Republican Donald Trump in battleground states and she faces a crucial test in Iowa, where voters never quite embraced the Democratic nominee.
Clinton rallied in Des Moines on Thursday to mark the first day of in-person early voting in the state, and her campaign coordinated a massive effort with early-voting surrogates in 10 other cities.
She told the crowd of about 2,000 people in the state's most populous city that volunteers would direct them "right from this rally to early voting sites. We've got one right down the street. So when you finish here you can go vote and we can be on the path to victory here in Iowa."
"Everyone of you can make the difference in this election," Clinton said.
Trump has held a consistent lead in Iowa since the beginning of September and now has a 5 percentage point lead in the state, according to an average of general-election polling compiled by the RealClearPolitics website. That's the case in head-to-head contest against Trump, and when the Libertarian and Green Party candidates are included.
Clinton's Challenge
Of about a dozen swing states in play for the 2016 presidential election, Iowa may be one of the toughest for Clinton. That's long been the case. Iowa Democrats went for Barack Obama over Clinton in the 2008 nomination race. For the 2016 campaign, she started early and devoted significant time and resources to remaking her image there, only to barely edge out Vermont Senator Bernie Sanders in the state's first-in-the-nation caucuses.
Iowa is worth only six electoral votes, far fewer than the other battlegrounds such as Ohio, Florida, Pennsylvania or North Carolina. But much like New Hampshire, another state that Obama won in 2008 and 2012 and that Clinton is counting on, Iowa carries out-sized importance in a closely contested election, as both candidates thread a path to the 270 Electoral College votes needed to claim the presidency.
Clinton arrived in Iowa after campaigning Wednesday in New Hampshire. Illustrating the narrow focus of the race, Trump was in Iowa on Wednesday and he's campaigning Thursday in New Hampshire.
Early Votes
Iowa Democrats know what a successful early-voting drive can do: More than four in 10 voters cast early ballots in the state in 2012, which given the state's voting patterns appeared to benefit Obama. Iowa voters can request and submit ballots by mail, and Democrats have a 3-to-1 lead over Republicans with Iowa vote-by-mail requests. Democrats see the in-person option as an avenue to turn out voters less likely to cast a ballot on Election Day.
Clinton for months has boasted a better organized and more robustly staffed ground operation than Trump in swing states. Her campaign is looking to early voting to keep Florida in the Democrats' column, to win back North Carolina, and perhaps to make a bid for Georgia, which has been a Republican stronghold in presidential elections. Campaign officials said more than half of state voters cast their ballots early in Nevada and North Carolina. In-person early voting also is under way in Minnesota and Wisconsin.
In Des Moines, Clinton hit on two themes her campaign thinks resonate with Democrats who need extra motivation to turn out, and with undecided voters.
Infrastructure Push
One is her promise to push infrastructure spending, something she said could prevent flooding of the sort that has been threatening Cedar Rapids, the state's second most populous city, and other parts of the state this month.
The other is Trump's dealings with small businesses who've worked as contractors on the Republican's enterprises. "Donald Trump has built a lot of businesses on the backs of the little guy," Clinton said, adding she's met contractors involved in his business deals who have been "victims of his refusal" to pay in full or at all.
"What kind of person does that: takes advantage of dishwashers and painters and architects and glass installers?" she said. "I just don't believe that's the way we're supposed to treat each other in America."
Speaking to reporters afterward, Clinton opened a new line of attack on Trump based on a Newsweek article published Thursday saying that said one of Trump's companies, Trump Hotels & Casino Resorts, paid consultants to examine business opportunities in Cuba in the late-1990s, when American corporations were banned from spending money there except through charities.
Newsweek reported that Trump's company paid a consultant more than $68,000 in 1998 to meet with government officials and businesses leaders to explore possible opportunities if the U.S. eventually lifted trade restrictions with Cuba.
"He puts his personal and business interests ahead of the laws and values of this country, always puts himself first," she said.
Trump in New Hampshire laid into Clinton, who he said is beholden to donors from Wall Street and big corporations who have shipped U.S. jobs overseas. "Just follow the money," he said, repeating what has become a new catch-phrase for his campaign.
"She's a globalist," he said, who "made a career of taking jobs from our country and giving them to other countries."