China Official Unconcerned by Focus on Rights in World Cup Bids
by
Record better than media portrayals, soccer official says

China plows billions into drive to become soccer superpower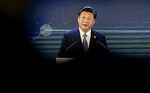 China's human rights record is better than its portrayal in the Western news media and renewed focus on the issue will not dissuade the world's most populous country from bidding to host the World Cup, according to a senior Chinese soccer official.
China, driven by President Xi Jinping's desire to become a soccer superpower, is plowing billions of dollars into the sport, with investors trying to turn a stated goal of hosting the World Cup -- and perhaps even winning it -- into reality.
No other sporting event attracts as many television viewers as the World Cup, a tournament that generates more than $5 billion for soccer governing body FIFA and brings considerable attention to the host country. China faced similar scrutiny before staging its first Olympics in 2008, when protesters disrupted a global tour of the torch in several cities.
"I think human rights is something maybe used to attack you by some people," Li Jiuquan, marketing head at China's soccer federation, said during a visit to a soccer business conference in Manchester, England, this week. "But if you are really in China, you will get more knowledge of China and maybe you will think differently. China is now very open and wants people -- especially foreign people -- to get to know China, to have the correct concept."
Bids Suspended
FIFA has suspended bids for future World Cups as the Zurich-based governing body tries to recover from a massive corruption scandal that included allegations of bribery by previous bidders for the tournament. Before any possible World Cup in China, the country is preparing to stage the Winter Olympics in 2022.
"I think for the Olympics many people will go there and see how it is in China and then they'll say it's not like in the Western media," Li said.
The next two World Cups are slated for Russia and Qatar, and the Arab country has faced scrutiny over its treatment of foreign workers. After criticism of the Qatar award, FIFA has said it will consider human rights in future decisions on where to stage the tournament.
Xi's blueprint for soccer has led to a surge of activity at home and abroad as China moves to raise its knowledge of the game. The country's teams are paying some of the highest salaries for international stars, while investors are acquiring teams that play in top European leagues. Li said getting the World Cup "as early as possible" would provide additional stimulation for the sport.
China has already started forging links with FIFA. In March Dalian Wanda Group Co. became FIFA's top-tier Chinese partner by agreeing to spend hundreds of millions of dollars on a sponsorship deal.
Wanda is talking to FIFA about hosting an international competition to pit China's national team against some of the world's best nations, with the first games set for January 2017. FIFA hasn't yet authorized that event amid concerns European professional clubs will refuse to release players for the tournament.
The sponsorship allows Wanda "to have very direct conversations with FIFA" to iron out any problems related to the competition, Li said.
Before it's here, it's on the Bloomberg Terminal.
LEARN MORE