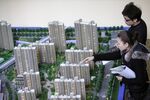 Even amid the slowest economic growth in a quarter century, China's homeowners are enjoying returns that put other asset classes to shame - on paper, anyway.
Home prices rose the most in six years last month, defying new policies to curb excessive speculation in big cities and government warnings about asset bubbles. While gains have been most pronounced in big cities like Shenzhen, where home prices are up about 60 percent in the past year, smaller cities such as Xiamen have also seen runaway growth, where prices have risen more than 38 percent.  
While the wealth effect of pricey homes can underpin growth and consumer spending, surging values pose a risk for the financial system should those gains prove unsustainable. Authorities in several major cities have imposed tightening measures to keep a lid on frothy markets, but mostly to no avail as money finds a way around restrictions. In Shanghai, divorces are surging as couples chose legal separation to get around rules limiting home purchases per couple. 
Meanwhile, big city home prices are up twice as much as major equity benchmarks over the past five years:

Real estate is also beating just about every investment available to individuals in China, excluding the nearly 7,000 percent gain for Bitcoin. Bonds can't compete, nor can steel or oil futures. Even an investment in the best Bordeaux vintages falls short, with the Liv-ex 100 Benchmark Fine Wine Index down from 2011:

Compared with other property markets, China's big cities still beat global peers, with Shenzhen and Shanghai leaving pricey San Francisco and London in the dust over five years, and Tokyo and New York far behind:

Returns in large Chinese cities are beating U.S. counterparts:

Such returns are stoking yet more speculative behavior and panic buying. So much so that news of Angelina Jolie's split from Brad Pitt spurred one social media user to joke that they must be faking divorce to buy another house.


— With assistance by Jeff Kearns, Miao Han, Emma Dong, and Jason Lee
Before it's here, it's on the Bloomberg Terminal.
LEARN MORE