Photographer: Dhiraj SIngh/Bloomberg
Burnt Convertible Bond Buyers Show Perils of India Investing
by
Investors face another wave of restructuring: Latham & Watkins

Payment troubles are a 'symptom of excess leverage,' S&P says
Investors who bought Indian dollar-denominated convertible bonds are saddled with losses that may deepen as legal advisers brace for a wave of debt restructuring.
Jaiprakash Associates Ltd., which missed an interest payment on its 5.75 percent U.S. currency notes exchangeable into shares on March 7, has slumped 42 percent this year to 41.7 cents on the dollar on Thursday. Eleven out of 19 such bonds in the nation that are showing prices have fallen below 80 cents, according to Bloomberg-compiled data.
Sales of all types of U.S. currency bonds by Indian companies surged about sevenfold this quarter and global funds still want more. While most of those sales have been by higher-rated issuers, the convertible market flags the pitfalls of investing in weaker companies. Software maker Rolta India Ltd. earlier this year became the first Indian issuer to default on its regular dollar notes in the past decade.
"The wave of convertible bond restructuring is a symptom of the excess leverage taken on by such companies in earlier years," said Mehul Sukkawala, analytical manager for South and Southeast Asia corporates at S&P Global Ratings in Singapore.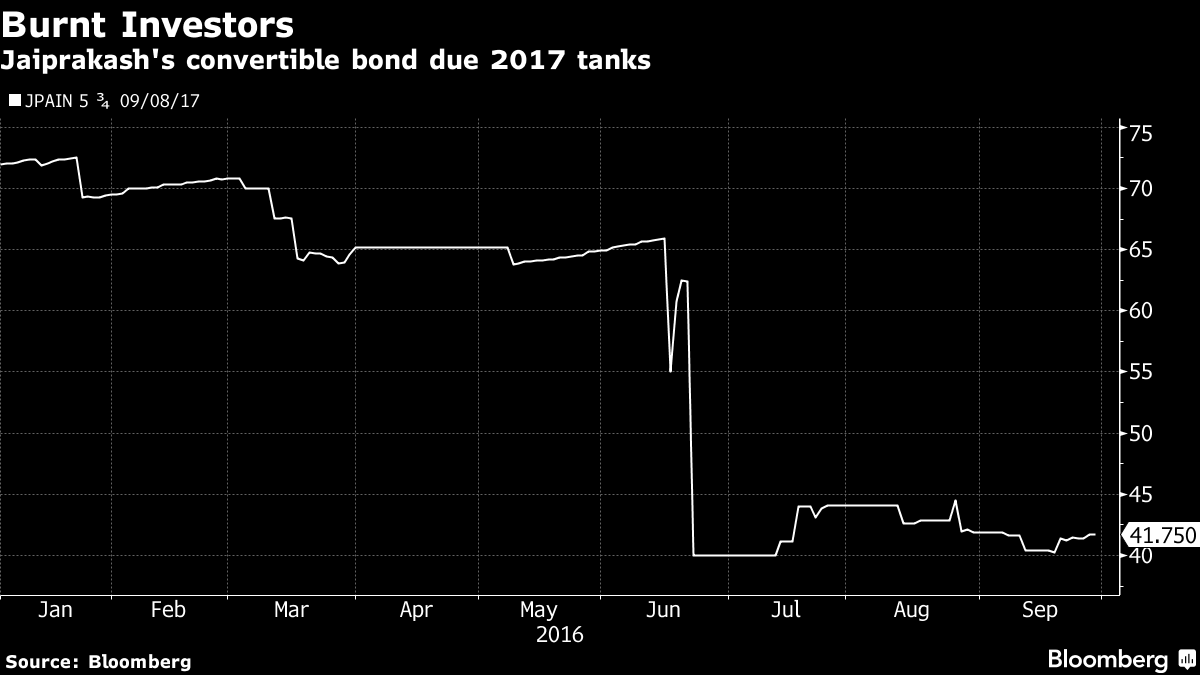 Mounting Maturity
A total of $1.6 billion of U.S. dollar convertible bonds, or 51.4 percent of the total amount outstanding, are due to mature by the end of 2019, according to data compiled by Bloomberg. Latham & Watkins LLP says that because a lot of the notes are linked to shares trading below their conversion prices, investors haven't been able to exchange them to equity.
Shares in Jaiprakash, a construction conglomerate which built India's Formula One race track, have fallen 12 percent this year to 10.5 rupees and are trading below the conversion price on its notes of 77.5 rupees.
"With rising maturities over the next few years, we expect another wave of convertible bond restructuring coming up," said Josef Athanas, partner at Latham & Watkins in Hong Kong. "We do see an uptick in restructurings and are focused on India."
Prime Minister Narendra Modi needs to revive the banking system burdened by about $120 billion of stressed assets to spur credit growth and support expansion in the economy. He is also seeking to build investor trust by overhauling bankruptcy laws.
Local companies defaulted on $80 million of convertible notes in 2015, down from the peak of non-payments in 2012, when issuers defaulted on more than $600 million of notes. That included Suzlon Energy Ltd.'s record $209 million delinquency.
"Some of the convertible bonds are totally out of the money and face severe impairment," said Nikhil Shah, managing director at Alvarez & Marsal India Ltd., which specializes in turnarounds in Mumbai. "In general, it's been a rough ride for bondholders."
Little Clout
Bank lenders have the upper hand in negotiations, leaving convertible noteholders with poor recovery prospects.
"The only option convertible bondholders have is to restructure because they are unsecured creditors and won't get much through a winding up process," said Gunjan Shah, a partner at Shardul Amarchand Mangaldas & Co. in Mumbai.
Latham & Watkins says that there is reason for optimism with the nation's new bankruptcy law but it is as yet untested.
"A lot depends on how the new bankruptcy law is enforced," said Athanas. "But if you're in a situation where there is a lot of bank debt and very little convertible bonds, the bank lenders will have more clout.''
Before it's here, it's on the Bloomberg Terminal.
LEARN MORE