Brexit Bulletin: 'Pandemonium' Warning as Banks Raise Rhetoric
Bankers push for transitional deal while the EU27 toughen their stance
by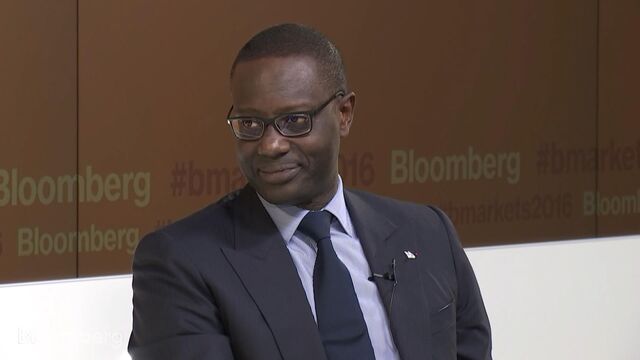 Sign up to receive the Brexit Bulletin in your inbox.
Bankers are turning up the volume as they bid to win a transitional deal allowing those based in London to keep providing services across the bloc on similar terms after Brexit.
Failure to agree such an interim arrangement after the two-year negotiation period would lead to "pandemonium," a senior JPMorgan Chase executive said yesterday at the Bloomberg Markets Most Influential summit, which was dominated by Brexit chatter.
"If you suddenly pull down the shutters at the end of year two, then you are going to have pandemonium," said Viswas Raghavan, deputy chief executive officer for Europe, the Middle East and Africa. "You have to make sure it is orderly."
Speaking at the same conference, Credit Suisse Chief Executive Officer Tidjane Thiam said that as much as as much as one-fifth of the volume in his bank's London operations could be affected by the loss of so-called passporting rights.
Meanwhile, Morgan Stanley CEO James Gorman told Bloomberg Television that he too is studying which jobs will need to shift from London, naming Paris and Frankfurt as potential destinations. 

Newton Investment's Helena Morrissey said the City of London's pro-remain stance is counterproductive and the U.K. will be able to compete post-Brexit through tax.
David Harding of Winton Capital suggested London could even become an offshore center, while Deputy London Mayor Rajesh Agrawal said his office is studying whether the capital can offer its own work-permits.
Separately, Hanno Kirner of Jaguar Land Rover told the Independent it would "frankly be disastrous" if the car industry was slapped with tariffs after Brexit.
27 Countries, One Shade of Red
A Bloomberg News analysis suggests EU members are taking a harder line on what the U.K. can expect from the Brexit negotiations.
Almost 100 days after the referendum, interviews and public comments suggest the remaining 27 EU governments are unanimous in arguing Prime Minister Theresa May can't enjoy free trade with the region if she also wants to clamp down on immigration. That elevates the risk of a so-called "Hard Brexit."
That was underscored today when Italian Prime Minister Matteo Renzi today told the BBC that the U.K. can't enjoy more rights than other non-EU states, calling it "impossible."
What else does Brexit mean for the U.K. economy, banks, Europe, trade and migration? Analysts from Bloomberg Intelligence have been hard at work since the Brexit vote, and have published an updated Brexit Special with all the information you might need.
China Trade
U.K. officials have held preliminary talks with China about establishing a trade agreement following Brexit, Jo Hawley, director of trade and investment at the British Consulate-General in Hong Kong, said on Thursday.
"We hope that coming out of the EU gives us an opportunity to look at free-trade agreements with other countries," Hawley said. "We're very keen to push that forward with the Chinese in particular. China is the big prize."
Back in the U.K., the man charged with sealing such deals, Liam Fox, said encouraging exports to new markets will be the key to closing Britain's near-record current account deficit.
Cost of Brexit
Planning to remove the U.K. from the EU could cost the government could cost the government £65 million ($85 million) a year and require it to hire 500 new civil servants, according to the Institute for Government.
The think tank also warned May that "silence is not a strategy" and urged her "to clarify how and when the government intends to go about making decisions on Brexit" rather than allow officials to squabble. 
Brexit Bullets
Judge says government must disclose Brexit legal arguments
London offices will bust then boom, says Deutsche Bank
London home sales at lowest level since 2012
Nissan CEO Ghosn says Brexit effect not seen yet in sales
European Parliament Conservative says special treatment for U.K. is over.
On the Markets
The pound is headed for its fifth quarterly decline versus the dollar, the longest run since 1984 as it bears the brunt of the Brexit vote.

European markets were up on Thursday, with yesterday's OPEC deal pushing energy shares higher.

And Finally
Looking on the sunny side, Bank of England Deputy Governor Minouche Shafik cited the climate as a reason to be upbeat since the Brexit vote. Asked if there was anything positive about Brexit, Shafik, after a thoughtful pause and an awkward laugh said: "The weather's been really good since the referendum." There is perhaps something to her remarks. Retail sales surged in the month after the EU vote, which statisticians put down to a spurt of hot weather boosting clothing demand.
For more on Brexit follow Bloomberg on Twitter, Facebook and Instagram, and see our full coverage at Bloomberg.com
Before it's here, it's on the Bloomberg Terminal.
LEARN MORE