Attack Injects Caution Into Stellar Quarter for Indian Markets
By and
Volatility returns to shatter calm in financial assets

Conflict with Pakistan may sour sentiment among foreigners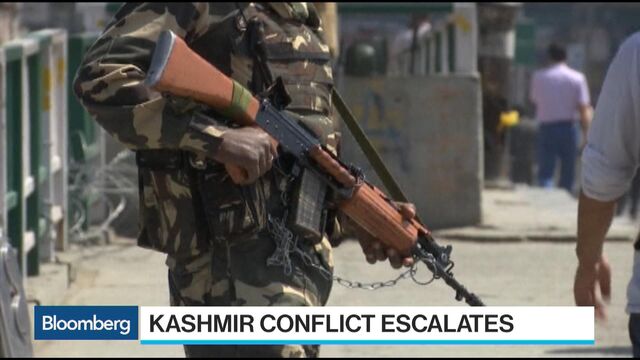 India's attack on terrorist camps in Pakistan introduces a sobering note for financial markets closing out a blockbuster quarter.
Stocks and the rupee had the steepest drop in three months on Thursday, while government bond yields surged the most since August last year. Escalating tensions between the nuclear-armed neighbors may sour sentiment among foreign investors who pumped the most money into Indian shares and debt this quarter since March 2015. The S&P BSE Sensex added 0.1 percent on Friday, while a gauge of mid-cap stocks jumped the most in seven months.
"The rally in markets would be on hold," said Rajeev De Mello, who oversees about $10 billion as head of Asian fixed income at Schroder Investment Management Ltd. in Singapore. "An increase in geopolitical tensions always increases the risk premium investors demand. I would expect global investors to evaluate the potential for further escalation."
The conflict sent volatility soaring. The India VIX Index surged 33 percent on Thursday, the most since August last year. While the gauge slid 7 percent on Friday, it remains higher than the one-month mean of 14. The rupee's one-month implied volatility climbed the most since June 24. Pakistan's KSE100 Index jumped 0.6 percent on Friday.

India said it attacked terrorist camps just across the border in Pakistan as Prime Minister Narendra Modi retaliated for a deadly strike against the nation's soldiers earlier this month. Pakistan's army rebuffed India's announcement, calling the claim of surgical strikes an "illusion." The nations have fought three wars since they split from each other in 1947.
"Market participants will naturally be watching the comments from the politicians on both sides," said Edwin Gutierrez, the London-based head of emerging-market sovereign debt at Aberdeen Asset Management Plc, which oversees $403 billion of assets. "I'm sure the hotline phone is engaged right now."
The Sensex is up 3.2 percent for the quarter, coming within two percent of its record high set in January 2015. The yield on the benchmark 10-year bonds has plunged 69 basis points, the most since the quarter ended December 2014, and reached a seven-year low Wednesday. The rupee completed a third monthly gain, the longest stretch since 2011.

Equity valuations have been pushed up by foreigners buying stocks for seven straight months, the longest streak since 2014. Inflows in September are the highest among Asian markets after South Korea.
Sanjiv Shah, chief investment officer at wealth manager and adviser Sun Global
Investments Ltd., said the attacks may give these investors pause.
"International investors may panic and traders may push prices a little bit but it all depends on how things play out," Shah said by phone from London, adding that he's not changing his investment strategy.
Still Bullish
Some fund managers see the equity losses as an opportunity.
"It's a good time to use the declines to buy stocks linked to the economy as strikes by India don't alter the economic outlook," Sunil Subramaniam, chief executive officer at Sundaram Asset Management Co., which oversees the equivalent of $3.7 billion, said by phone from Mumbai. The attacks don't "represent diplomatic, economic change in the government's stance," he said.
Global investors bought $512.5 million of shares and their domestic counterparts were net buyers of $244 million of equities on Thursday. State-run banks bought a record 169.2 billion rupees of sovereign bonds, taking advantage of the biggest drop in prices in 13 months.
India's world-beating economic growth has been a magnet for investors seeking higher-yielding assets. Asia's third-biggest economy expanded 7.1 percent in the quarter ended June 30 from a year earlier, the fastest among major economies. At 6.86 percent, India's 10-year sovereign yield is the highest among major Asian markets after Indonesia.
"This will have a very short-term impact on the market unless the situation completely escalates out of control," said Hans Goetti, the Dubai-based chief strategist for the Middle East and Asia for Banque Internationale à Luxembourg, which manages $40 billion. "We're quite bullish on India. Inflation is quite low and there's room to cut interest rates."
India's central bank is set to review policy rates next week, and expectations are that the new governor Urjit Patel may reduce rates from a five-year low.
Goetti said he's not unduly alarmed by the geopolitical situation.
Kargil War
"India and Pakistan have always been at loggerheads," he said. "If there's a war tomorrow, then all bets are off."
The last major conflict between the two countries occurred when Pakistani troops invaded Kargil, in the northern Indian state of Jammu and Kashmir in late May 1999, only to withdraw in mid-July. India launched air strikes on May 27 that year to flush out the rebels, causing the Sensex to tumble 2.8 percent on the day.
Even so, the equity gauge rallied for three months through August as the government took steps to boost investments and spurred tax collections to help overcome the additional costs borne due to the conflict. The measure's 64 percent jump in 1999 was its biggest since 1991.
"If there is a full blown war, it may be problematic in the near term, but a small strike should not be a big worry for the markets," Sampath Reddy, chief investment officer at Bajaj Allianz Life Insurance Co., which has about $6.5 billion in assets, said by phone.
Before it's here, it's on the Bloomberg Terminal.
LEARN MORE