After Trump Bombshells, Lew Soothes Mexico With Pro-Trade Talk
by and
Treasury Secretary Jacob Lew visits Mexico weeks after Trump

Rejecting globalization 'no solution' to slow growth, Lew says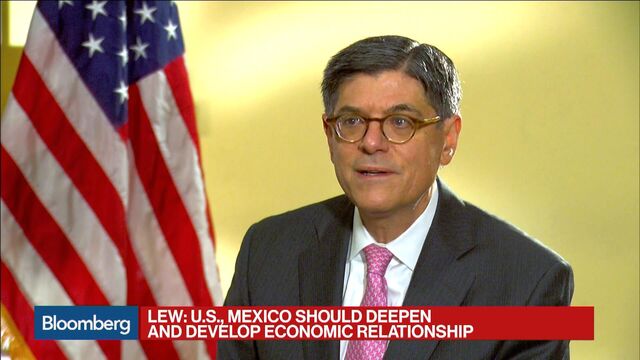 U.S. Treasury Secretary Jacob Lew sought to allay the possibility of a rift with Mexico with a pro-trade message that highlighted the importance of the relationship between the neighbors.
While he acknowledged the stress that workers in both nations are facing as globalization and technology change their economies, Lew said improving trade relations is the best solution to boost growth, not severing ties. Mexico is America's third-largest trading partner.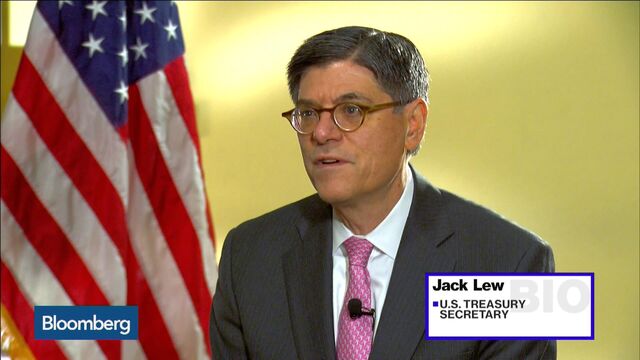 "The answer cannot be to shut ourselves off and say that we can do better with lower growth," Lew said in a Bloomberg TV and radio interview on Thursday in Mexico City. "The answer cannot be to say we are going to separate our interest from the interest of our neighbors and not cooperate."
Lew's visit, his second as Treasury secretary, came about a month after Republican presidential candidate Donald Trump traveled south of the border to meet President Enrique Pena Nieto. Trump has faced criticism for his pledge during the campaign to build a wall along the Mexican border to prevent illegal immigrants from coming into America, and to rip up the Nafta trade agreement.
Fears that a Trump presidency would roil Mexico's relationship with its largest trading partner have contributed to the peso's 11 percent decline against the dollar in the past six months, the biggest drop among emerging market currencies.
After Monday's first U.S. presidential debate, the Mexican peso rebounded from a record low in a sign investors perceive Democratic contender Hillary Clinton outperformed Trump.

The U.S. and Mexico's cooperation is "critical" for economic growth and security, "particularly as the global economy faces continued uncertainty and fragile growth," Lew said in a speech in Mexico City later on Thursday.
The economic model of globalization is being tested by the U.S. election and the June vote for the U.K. to leave the European Union. This shift has led global institutions like the International Monetary Fund to warn against protectionist movements and encourage governments to instead figure out ways to help share the benefits of global trade.
"Our response must not be to close ourselves to the world, but rather to redouble our commitment to inclusive growth that spreads opportunity broadly and offers support to those who are most disrupted by transition," Lew said.
Before it's here, it's on the Bloomberg Terminal.
LEARN MORE