Why Getting Fired Hurts So Bad
This week on Game Plan: Losing a job not only means a loss of income, but also, often, a loss of self.
By and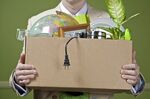 You spend more time at your job than anywhere else. Hosts Rebecca Greenfield and Sam Grobart take a close look at the way we live our lives at work—our frustrations, dilemmas, habits, and anything else that happens in the office.
There are a series of practical reasons that losing a job hurts: It cuts you off from a source of income, it interrupts your work history, and then you have to go on a soul crushing job hunt. But, getting laid off also has an emotional sting that can color the rest of your career.
This week Sam and Rebecca talk about why getting let go from a job often feels like a break-up, especially as the workplace becomes the center of our social lives. They're joined by Brittany Ashley, who this summer had a very public firing from Buzzfeed, where she wrote and starred in some of the company's popular videos. She talks us through the day she got canned, not only from a job that she liked, but from a place around which she had built her social life. The experience has changed the way she views the employer-employee relationship, she says.  
But, maybe leaving a job doesn't have to be that painful. To make the process of getting fired less emotionally shocking, Sam and Rebecca suggest building up a "F*ck Off Fund" for your heart. In addition to having cash saved off for when times get tough, workers can build up an emotional nest egg. Keep in mind: Companies, ultimately, don't actually care about you.