markets
Wall Street Destroys Lots of Value With Lapses, Moelis Says
By
Goldman, Morgan Stanley stand out for creating value, he says

Moelis predicts Trump beats Clinton as voters demand change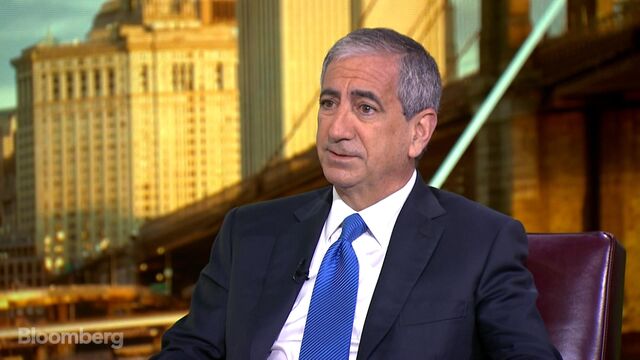 Ken Moelis, the former UBS Group AG executive who took Moelis & Co. public two years ago, said he's keeping in mind the lapses of giant investment banks as he works to build his boutique.
"Over my career, over 35 years, it's hard to find value-creation outside of Goldman and Morgan," Moelis said Wednesday at the Bloomberg Markets Most Influential Summit, praising Goldman Sachs Group Inc. and Morgan Stanley for developing talent and promoting integrity. "If you look around, you'll see that there has been a lot of value destroyed in our industry when you get away from those simple ways of approaching the business."
UBS and Deutsche Bank AG are among banks trading for less than a quarter of their peak values from before the financial crisis. Moelis didn't specify which firms he thought were destroying value, but said there were signs of excess on Wall Street before the mortgage market crash.
"Something was just wrong, allocation of capital was wrong," Moelis said. "I could see that it was this magnetic pull of subprime that was pulling a lot of capital."
Moelis & Co. was founded in 2007 and raised more than $180 million in a 2014 IPO, selling shares for $25 apiece. The investment bank climbed 0.5 percent to $26.40 at 4:15 p.m. in New York. Moelis pays a quarterly dividend of 32 cents a share and has also made two special cash payouts since its IPO.
The executive also commented on politics, predicting that Republican Donald Trump will defeat Hillary Clinton in the U.S. presidential election, propelled by voters who are eager for a new approach in Washington.
'Desperate Desire'
"There is a desperate desire to change," he said. "We haven't elected a president really since George H.W. Bush based on competency."
Moelis discussed the election further in a Bloomberg Television interview. He said many believe that Clinton would be "more predictable," but also cited recent remarks by New Jersey Governor Chris Christie, a Trump supporter, that suggested a Republican administration would tackle excessive oversight of corporations.
"I think if he continues to address the business community on the burden of regulation and lowering the corporate tax rate, he might find some support in that industry," Moelis said of Trump.
— With assistance by Sonali Basak
(
Updates shares in the fifth paragraph.
)
Before it's here, it's on the Bloomberg Terminal.
LEARN MORE