U.K. Labour Would Cut Migration by Stopping Abuses, Corbyn Says
Alex Morales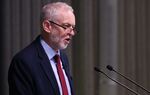 Labour Party leader pledged to cut migration to the U.K. by stopping employers paying lower wages to migrants, undercutting the wages of Britons.
"It isn't migrants that drive down wages, it's exploitative employers and the politicians who deregulate the labor market and rip up trade union rights," Corbyn told delegates at the Labour Party conference in Liverpool, northwest England, on Wednesday. "We will act decisively to end the undercutting of workers' pay and conditions through the exploitation of migrant labor and agency working which would reduce the number of migrant workers in the process."
Before it's here, it's on the Bloomberg Terminal.
LEARN MORE