Trump Tells Polish-Americans He's Committed to Poland's Strength
By
Credits nation for being 'up to date' on NATO payments

Giuliani says Trump understands 'obligation' to defend allies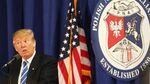 Republican presidential nominee Donald Trump on Wednesday told a group of Polish-Americans that the European nation would have a reliable ally in the U.S. if he wins the November election.
Trump at Chicago's Polish National Alliance credited Poland with staying "up to date" on its payments to the North Atlantic Treaty Organization. He has accused other U.S. allies of not paying their fair share of defense costs, raising the prospect the U.S. might not come to their aid in the future.
Earlier in the event, Trump adviser and former New York City Mayor Rudy Giuliani also sought to reassure the audience of about 100 people that Trump understands what "his solemn obligation" to NATO would be.
"If you elect Donald Trump, you will find a man who understands that Poland -- unlike some of the countries he's pushing a little for a little money -- Poland pays its bills to NATO," Giuliani said. "He'll defend the NATO treaty. It's a solemn obligation of the United States, but he will push some of the people that aren't paying their fair share to pay more. But that doesn't mean he doesn't understand his solemn obligation, which is, if any member of the NATO alliance, all 20 of them, if any one of them is attacked we all come to each other's defense."
Trump's indignation with some U.S. allies is a regular theme of his stump speeches.
"We defend Japan, we defend Germany, we defend South Korea, we defend Saudi Arabia, we defend countries. They do not pay us. But they should be paying us, because we are providing tremendous service and we're losing a fortune," Trump said Monday in his first debate with Democratic opponent Hillary Clinton. "All I said was, they may have to defend themselves or they have to help us out."
Clinton has used Trump's comments as a cudgel, saying they're an example of the risk he poses with his freewheeling style.
"Words matter when you run for president, and they really matter when you are president, and I want to reassure our allies in Japan and South Korea and elsewhere that we have mutual defense treaties and we will honor them," Clinton said at the debate. "It is essential that America's word be good."
Giuliani also told the Chicago audience that Trump could effectively handle Russia. Giuliani said Russian President Vladimir Putin is a "bully" and that Trump would negotiate with him from a position of military strength. Trump's praise of the Russian he has called a stronger leader than U.S. President Barack Obama has also drawn Democratic attacks.
Trump told the audience he owns "a lot of great property in Europe" and said Clinton was "grossly incompetent." He lambasted Clinton's husband, former U.S. President Bill Clinton, for saying in May that "Poland and Hungary, two countries that would not have been free but for the United States and the long Cold War, have now decided this democracy is too much trouble."
Before Trump's public remarks, he met with 20 Polish-American leaders, including Polish American Congress President Frank Spula. Journalists were allowed brief access, during which a man was heard reminding Trump that Poland was a victim of "cruel and merciless totalitarian aggression" during World War II. Journalists were ushered out before hearing Trump's response.
Before it's here, it's on the Bloomberg Terminal.
LEARN MORE