Traders Doubt Yellen's December Resolve as Credibility Attacked
by
Futures show 54% probability of interest-rate increase in 2016

Fed Chair Yellen says most FOMC memebers expect hike this year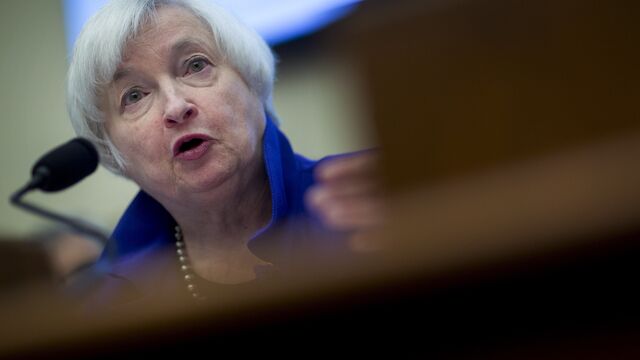 Traders see barely more than coin-flip odds that the Federal Reserve will raise interest rates by December, even as Chair Janet Yellen reiterated Wednesday that most members of its policy-setting committee expect a hike this year.
Treasury yields have fallen across maturities since the central bank left rates unchanged at its Sept. 21 meeting, while signaling that the case to hike had strengthened on brightening U.S. economic data. The bullish comments paired with no policy action left bond traders wondering how good conditions need to be for the Fed to move, particularly as officials pared projections for the future path of tightening.
"They say they're data-dependent but in September they couldn't even point to any data that suggest they should stand pat," Charles Plosser, former president of the Philadelphia Fed, said in an interview on Bloomberg Television Wednesday. "That does damage, I think, to their credibility about them being data-dependent."
Plosser's comments come as a slate of current Fed officials spoke at separate events Wednesday. During a congressional hearing on regulation, Yellen reiterated that the bank would raise rates gradually while providing no fixed timetable.
Fed Speakers
Treasuries fell Wednesday afternoon, erasing earlier gains, on reports that OPEC agreed to cut oil production for the first time in eight years. Benchmark 10-year yields rose two basis points, or 0.02 percentage point, to 1.57 percent as of 5 p.m. in New York. The price of the 1.5 percent security due in August 2026 was 99 11/32. U.S. two-year yields rose one basis point to 0.76 percent.
St. Louis Fed President James Bullard, Chicago Fed President Charles Evans, Cleveland Fed President Loretta Mester and Kansas City Fed President Esther George were among Wednesday's scheduled speakers. Mester, who provided one of three dissenting votes at the Sept. 21 meeting, cited labor-market gains and receding global risks as factors that prompted her to favor a hike.
"If we continue to delay even as we make further progress on our inflation goal and labor markets continue to tighten, we risk having to undertake a considerably steeper policy path later on," she said in the text of a speech scheduled to be delivered Wednesday.

Futures traders assign about a 54 percent chance to a rate hike by year-end, according to data compiled by Bloomberg. That probability dipped below 50 percent on Tuesday for the first time Sept. 15. The calculation is based on the assumption the Fed's target trades at the middle of the new band after the central bank's next boost.
The Treasury sold $28 billion of seven-year securities Wednesday, the last of three fixed-rate note auctions this week totaling $88 billion.
Merrill Lynch's Option Volatility Estimate Index, a measure of expected price swings in Treasuries known by the acronym MOVE, fell to 57.62 Wednesday, the lowest closing level since December 2014.
On Monday, Republican Presidential nominee Donald Trump said that the Fed is keeping rates low to make President Barack Obama look good during the first of three debates with Democratic nominee Hillary Clinton.
Before it's here, it's on the Bloomberg Terminal.
LEARN MORE