Student Loan Defaults Drop, but the Numbers Are Rigged
College debt is crushing more graduates than the data show.
By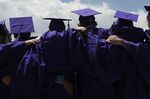 The good news is that Americans are taking longer to default on their federal student loans, the U.S. Department of Education announced Wednesday. The bad news is that the overall number of defaults continues to rise.