Spanish Socialists Turn on Leader, Edging Rajoy Toward Power
by and
Former Prime Minister Gonzalez says Sanchez misled him

Sanchez is blocking Rajoy's efforts to form government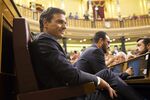 A Socialist revolt to oust leader Pedro Sanchez advanced on Wednesday with mass resignations from the group's main decision-making body after party grandee Felipe Gonzalez accused Sanchez of lying about his strategy.
Seventeen members of the party's 35-person executive committee stepped down, a move that could trigger its dissolution and topple the 44-year-old leader, according to a party spokesman. While Sanchez kept quiet, his right-hand man Cesar Luena, emerged to say that only grassroots members can determine his political fate.
"The party's members are the ones that have to decide" in an extraordinary congress, Luena told reporters in Madrid late Wednesday. "The leader of the Socialist party is his secretary general Pedro Sanchez."
Earlier, Gonzalez, party head for almost two decades, said Sanchez had promised to abstain to help facilitate a government in a private conversation after the Socialists suffered losses against Mariano Rajoy's People's Party in June's election. Socialist lawmakers then voted against Rajoy's candidacy in confidence votes on Aug. 31 and Sept. 2, in line with Sanchez's public pledges at the time.
Deception?
"I'm frustrated, I feel like I've been deceived," Gonzalez told Cadena Ser radio on Wednesday. "He told me he would do one thing and then did the complete opposite."
Ousting Sanchez may help end the nine-month deadlock that has paralyzed Spanish politics since the PP lost its majority in December when a first round of elections was held. If the rebels have their way, the party would likely appoint a temporary administrator who would then lead an abstention to let Rajoy take office. Andalusian President Susana Diaz is the most likely successor in the longer term.
"I think Felipe is in the abstention camp, I'm in the camp of voting against Mariano Rajoy and getting an alternative government -- but I'd like to know where Susana Diaz is," said Sanchez in an interview with Eldiario.es.
While the economy has maintained its momentum throughout the impasse, Rajoy and some business executives have warned that growth is at risk. Spain faces an unprecedented third election in a year unless parliament can choose a prime minister before the end of October.
Showdown Saturday
The Socialist leader is trying to hang on until a meeting of the party's federal committee on Saturday to present a plan to form an alternative government to Rajoy. Such a move would require support from anti-austerity group Podemos, which has captured much of the Socialist vote since emerging two years ago, as well as smaller separatist parties from Catalonia. Both alliances would sit uneasily for many Socialists.

Gonzalez said if the party leaders refuse to endorse Sanchez's plan then he should resign.
Sanchez has called for the party to hold a leadership election on Oct. 23 in a bid to flush out his opponents. While senior officials are pushing for a compromise to let Rajoy take office, their leader is betting that his stance would still win the backing of the rank-and-file membership.
Regional Revolt
The pressure on Sanchez increased after the Socialists suffered losses in regional elections in Galicia and Basque Country on Sunday, falling behind Podemos in both ballots. Sanchez has posted the worst result in the Socialists' history in both of the general elections he's fought. Diaz, who runs the Socialists' stronghold in southern Spain, hinted Tuesday about a challenge to Sanchez.
"We the Socialists have a problem because we are piling up defeats," Diaz told reporters. "I'll be leading or following, wherever my colleagues decide I should be," she said, when asked if she would consider running for the party leadership.
As the political gridlock stretches on, Sanchez has refused to support Rajoy, saying the prime minister's alleged ties to a party corruption scandal make him unfit to lead the government. A group of former PP officials will stand trial in the National Court in Madrid starting next week. Rajoy has not been charged and denies any wrongdoing.
Other Socialists leaders, including the regional presidents of Extremadura and Castilla-La Mancha have urged Sanchez to reconsider his stance. Without a proper government in power, Spain can't pass a budget bill and that could potentially hold up financial transfers from the central government to the regional administrations.
"I'm not happy to see a constitutional party in crisis," Albert Rivera, the leader of the liberals of Ciudadanos, which supported Rajoy on his failed confidence vote earlier this month, said on Twitter. "Still it would be worse should Spain continue in crisis due to the institutional blockade."
Before it's here, it's on the Bloomberg Terminal.
LEARN MORE