Korean Court Rejects Arrest-Warrant Request for Lotte Chief
by
Prosecutors sought arrest on embezzlement allegations

Corruption investigation uncertain with court's decision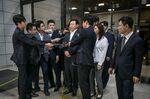 A South Korean court rejected a request by prosecutors to arrest Lotte Group Chairman Shin Dong-bin on embezzlement charges, setting back one of the country's biggest corruption probes.
Based on the evidence, Seoul Central District Court Judge Cho Eui-yeon didn't find the need to issue an arrest warrant for the 61-year-old executive, the court said on Thursday via text message. Lotte said in a statement it supports the court's ruling and that it will seek to normalize its business activities as soon as possible.
The decision brings a rare dose of relief for the group, which has been battling crisis after crisis for more than a year. Arresting Shin would have set the stage for him to be the biggest Korean businessman to face trial since 2013 and leave a leadership void at the sprawling conglomerate, which has more than 90 units generating over 100 trillion won ($91 billion) in annual revenue.
"Shin Dong-bin will swiftly seize control inside the group as Lotte's business was deadlocked for several months," Park Ju-gun, president of corporate watchdog CEOSCORE in Seoul, said before the court decision. "It is likely that the one-leader system at Lotte will be strengthened under Shin's control."
To see a timeline of events highlighting Lotte's turmoil, click here
Soon after the court decision, Shin walked out of the prosecutors' office, apologized for causing concerns and rode off in a car, according to footage on broadcaster YTN.
Korean law allows for prosecutors to press ahead with indictments or gather more evidence to renew their request for an arrest warrant, according to Kim Sang-gyeom, a law professor at Dongguk University in Seoul.
Family feud
Lotte's turmoil began last year, when a family feud erupted into public view after the chairman's older brother led a failed boardroom coup.
Since then, Lotte has faced intensifying regulatory scrutiny and investigations, which took a toll on the group's business. The conglomerate canceled a potential $4.5 billion initial public offering of a unit and derailed Lotte's bid for chemicals-maker Axiall Corp. this year.
The court's decision came a week after Shin was questioned by investigators for more than 18 hours. Prosecutors also questioned his father and his estranged brother. In July, Korean authorities arrested Shin's elder sister on separate charges of bribery and embezzlement.
Shin Young-ja, who has been in jail since the arrest, resigned from her board of directors' positions at Hotel Lotte and Busan Hotel Lotte, according to Lotte Group.
The investigation into allegations of corruption at Lotte was temporarily halted last month after the group's vice chairman, who was Shin's close aide, was found dead hours before he was scheduled to be questioned. Several analysts predicted at the time prosecutors would wind down the probe.
Lotte, whose business range from theme parks to chemicals, is the fifth largest of the family-run conglomerates, known locally as the chaebol, that dominate Korea's business landscape.
Though several chaebol heads have been arrested and convicted of financial crimes, they rarely serve jail time. SK Group Chairman Chey Tae-won was jailed in 2013 for embezzling corporate funds before he was pardoned last year by President Park Geun-hye. CJ Group's chairman was jailed in 2013 for embezzling corporate funds and tax evasion, though he was freed in August after receiving a presidential pardon.
Before it's here, it's on the Bloomberg Terminal.
LEARN MORE