Parent Company of LaCroix Seltzer Is Crashing After Short-Seller's Report
by
Glaucus calls for investigation into company's accounting

National Beverage says report was 'false and defamatory'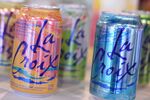 National Beverage Corp., the soft-drink maker that sells the popular LaCroix seltzer brand, plunged as much as 16 percent after it was targeted by activist short seller Glaucus Research Group.
Calling National Beverage a "faddish" stock, Glaucus questioned the company's accounting and said its shares could lose two-thirds of their value as problems come to light. The firm's 51-page "short-biased" report, published Wednesday, sent National Beverage on its worst intraday decline in almost four years. The stock dropped as low as $39.14, reaching its lowest price since March.

National Beverage, which also sells Shasta and Faygo, had been riding a rally fueled by the success of LaCroix -- a hit with millennials who are shifting away from other forms of soda. The LaCroix phenomenon had helped push up National Beverage by 65 percent in the past year before Wednesday's rout. Glaucus argues that the run-up was overblown, and it urged regulators to look more closely into the company.
National Beverage "has become a faddish stock-market darling du jour," Glaucus said in the report. "We believe that government regulatory and enforcement agencies should launch a full investigation of the company, its accounting and its practices, creating a reasonable probability of further downside."
In a response to the allegations, National Beverage called the Glaucus report "false and defamatory."
"We believe that this 'report' was intended to severely manipulate our stock price downward in support of short sellers, whose short position has dramatically increased over recent weeks," the Fort Lauderdale, Florida-based business said in a statement. "The allegations in this 'report' are untrue and are based on allegations made in a complaint for the purpose of extorting money from the company."
National Beverage's sales growth and operating performance "will translate into excellent earnings and cash flow to the benefit of our shareholders," the company said.
National Beverage has climbed more than sixfold since March 2009, doubling the Russell 2000 Index of small-cap companies. Nick Caporella, the company's chairman, chief executive officer and founder, holds 74 percent of its shares, according to data compiled by Bloomberg.
Glaucus -- a firm founded in Orange County, California, that's led by director of research Soren Aandahl -- has taken a short position in National Beverage's stock, meaning it stands to benefit as shares decline. Short sellers borrow shares and sell them, hoping to profit by repurchasing the securities later at a lower price. Supporters say activist short sellers make markets more efficient and keep misbehaving corporate managers in check, while opponents argue their methods can resemble market manipulation.
Shorts Rise
National Beverage shares, which go by the ticker FIZZ, rallied 38 percent in the first six months of the year to end June at an all-time high. That pushed its valuation to a record 47 times reported earnings, in line with the average among small caps at that time. The stock has plunged 26 percent since then, dragging its price-to-earnings ratio below 30.
Shorts have increased bets against the company in the past month to the highest in nine years. At about 15 percent of free float, that's more than double the level at the start of September and almost 10 times the five-year average. It's also taken National Beverage short interest to more than double the average 6.1 percent for all companies in the Russell 2000 Index of small caps.
Glaucus, which publishes most of its research reports on its website, has targeted more than 20 companies around the world. It came to prominence with a report on U.S.-listed Universal Travel Group in March 2011, claiming the Shenzhen, China-based company falsified its financial statements. The company voluntarily delisted in April 2012. The next year, Universal Travel and two former executives agreed to pay $935,000 to settle a U.S. Securities and Exchange Commission lawsuit alleging that it defrauded investors.
Japan Foray
More recently, Glaucus made its first foray into Japan in July when it criticized the accounting of Itochu Corp., which trades everything from commodities to clothing. Itochu strongly denied all allegations. While the shares tumbled the day of the report, they've since recovered all losses.
Glaucus also targeted Hong Kong's Tech Pro Technology Development Ltd. at the end of July, sending the shares down 86 percent the day it said the company overstated profits and inflated the purchase price of acquisitions. Tech Pro demanded an apology, saying the report "has no merit" and is "defamatory."
Before it's here, it's on the Bloomberg Terminal.
LEARN MORE