Sheila Bair's One Weird Trick to Make Her College Less White
Recruiting students of color can be as hard as getting them to stay. Bair's solution? The buddy system.
by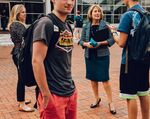 When former Federal Deposit Insurance Corp. chair Sheila Bair took over Washington College last year, she immediately started making changes. One of her goals was to find innovative ways to reduce her students' debt burden. But she also tackled a related and not insignificant problem: the overwhelming whiteness of her campus.
Three of every four students on the school's small rural campus in Maryland are white. It's not an unusual statistic at the nation's top schools, where black students in particular rarely make up more than 8 percent of undergraduates, Education Department data show.
But for students of color, life at a mostly white college like Washington can be profoundly isolating. "The way people of color process negative racial experiences is having family and friends to talk to about them," said Deborah Faye Carter, an associate professor at the School of Educational Studies at Claremont Graduate University. When there's no community, there's no support.
That makes students of color more likely to drop out: As many as 20 percent of college students from historically underrepresented communities who drop out of school do so because they feel like they don't belong, said Terrell Strayhorn, a professor and director of the Center for Higher Education Enterprise at the Ohio State University.
Washington College is located in Kent County, home to a public school system that was among the last in the nation to desegregate following the landmark Supreme Court ruling in Brown v. Board of Education, according to the C.V. Starr Center for the Study of the American Experience at Washington College. Vestiges of that past remain in Chestertown, where some black students have said they've felt like they're being watched while frequenting shops in town, said Alisha Knight, a professor at Washington College since 2004.
"My first year here I would commute to work, and every day I would see this huge rebel flag waving in front of a house," Knight said. "Every day, for the first year I was working here, I would think, Where am I going, where am I working, what are the attitudes of the people in this community, and what are they saying to me by having this flag?"
The Washington faculty and board spent years discussing ways to increase diversity on campus—in part because they thought a less homogeneous student body would make the school more appealing to prospective freshmen, said Larry Culp, chairman of the school's board.
Bair said she wanted to diversify the campus for its own sake. Making college more accessible to more students, particularly minority students from low-income households, was a "personal passion of mine," she said.
She remembered struggling as an undergraduate at the University of Kansas because she lacked a support network there. Perhaps she would've been less miserable had she attended with a friend from her hometown, she wondered.

Bair had spent five years chairing the FDIC, where she had gotten to know Senator Elizabeth Warren (D-Mass.), then a Harvard professor. Before starting her new job, Bair asked Warren for her thoughts on Washington College's diversity problem. What if the school allowed certain students to apply as part of a group?
Warren told Bair to check out the Manhattan-based Posse Foundation. Founded in 1989 by eventual John D. and Catherine T. MacArthur Foundation "genius grant" recipient Deborah Bial, Posse identifies disadvantaged students from urban public high schools who may be overlooked by top colleges—relatively low standardized test scores are often a culprit—but would succeed if they had more support.
Posse then organizes students in small groups—"posses"—that meet weekly for eight months during their senior year to help them get ready for college life. They're then placed at about 57 partner colleges across the country in groups of 10, with four-year scholarships that cover their tuition. Living expenses are covered if students' families can't afford it. Ninety percent graduate from college.
The program aims to diversify the nation's most prestigious schools so they're more representative of the country, Bial said. "The most selective colleges have made an incredible effort, especially over the past couple of decades, to focus on recruiting more diverse student bodies," Bial said. "But do I think we still have a long way to go? Yes."
Bial told Bair that if she were to implement her plan, she'd need to make sure that her campus didn't view these students as needing extra help. Rather, Bial told her, they're outstanding students who simply were born into challenging financial circumstances. The students would have to be celebrated as scholars, Bair recalled. Posse describes its students as future leaders.
Bair spoke with some high school seniors and college graduates who told her the group application plan was a good idea. Her board, while supportive, questioned her about whether the initiative—to be called "George's Brigade" after George Washington, the school's namesake—would increase the rate at which first-generation students end up graduating. Bair said it would.
The program, aimed at but not limited to students of color, went into action. Washington College recruited students from urban high schools, partnering with organizations such as the Simon Family Foundation and the federally funded Upward Bound to identify promising applicants. In some cases, Bair said, the school slightly eased its traditional admissions standards for certain students' friends, to allow them both to enroll.
This fall, 16 students enrolled as part of George's Brigade. Their average GPA is above 3.5, Bair said, and seven of them are from Baltimore. Ten of the 16 enrolled with a friend; the remaining six were offered the option but chose to enroll alone. Their costs to attend Washington College are fully covered, and a condition of their enrollment limits annual borrowing, should they need it, to $2,500.
The school also promises extra support throughout their time on campus in the form of seminars and mentoring. Donors, including San Francisco-based Bank of the West, a unit of BNP Paribas SA, are covering slightly less than half the cost while the school and federal grants cover the rest.
Bair's buddy system could help students who might otherwise feel alienated at the overwhelmingly white, rural campus. "Being in school with friends will affirm your own sense that you belong in college," said Strayhorn. Carter said that some George's Brigade students may be aided by simply having someone on campus like them who could tell them, "Yes, I understand your experience and I support you."
That will be especially important at Washington College. "One of our concerns is not just to help them feel comfortable at college but also in this part of the state," said Knight, who is serving as a mentor to one of the George's Brigade students. "When examining the challenges, you have to look at the context of where the college is located."
Strayhorn, Carter, and other diversity scholars agreed that the program showed promise, but was only a start. "When we talk about diversity, we talk about the whole institution," said Carter. "The fabric of the institution needs to be reexamined … extending to the coursework, activities, the curriculum."
Still, "the payoff [of the George's Brigade program] could be pretty significant over the long haul," Strayhorn said.
Bair is already seeing results. This year's freshman class at Washington College is the most diverse in the school's 234-year history. Close to 19 percent of freshmen are black or Hispanic, compared with 7 percent of the previous year's entire student body, according to the school and Education Department data.
"She's working on an issue that so many institutions of higher education struggle with," Bial said of Bair. "It's so important."
Before it's here, it's on the Bloomberg Terminal.
LEARN MORE