Schaeuble Says German Post-Nazi Immunity to Populists Is Waning
by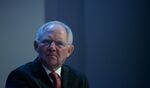 German Finance Minister Wolfgang Schaeuble said the spread of populist movements to Germany suggests that the country's rejection of nationalism following the Nazi era is showing cracks.
"I really thought we wouldn't see this happen in Germany," Schaeuble said in a speech in Berlin on Wednesday. "I thought that our Nazi legacy had the one advantage that we're immune to this kind of thing. We're not completely immune anymore."
Schaeuble said voters anxious about globalization propelled the U.K. vote to leave the European Union in June and the possibility that "people in America might elect" Republican candidate Donald Trump as president. In Germany, the Alternative for Germany has been draining votes from established parties in regional elections with a platform opposing immigration and the euro.
"We can't leave the field open to those who oppose freedom, democracy and European integration," Schaeuble said.
Before it's here, it's on the Bloomberg Terminal.
LEARN MORE