Saudi Hands Tied as Rising Rates Risk Worsening Economy Woes
by
Dollar-linked riyal means rate cut to boost growth unlikely

Government withdrawals amid oil slump led to liquidity crunch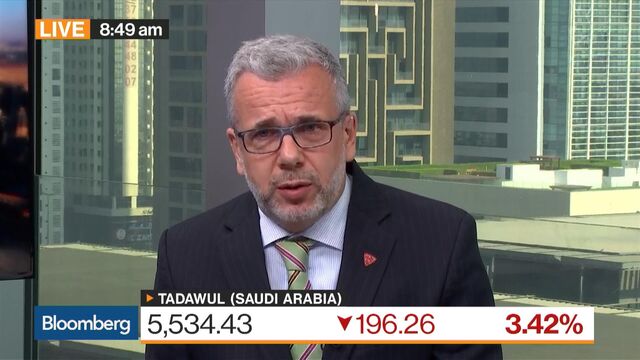 Saudi Arabia's currency peg is forcing the central bank to look beyond rate cuts to spur growth, as a slowdown driven by lower oil prices has consumers watching their wallets and contractors facing payment delays.
With a key benchmark for pricing loans at an almost eight-year high, the Saudi Arabian Monetary Agency, as the central bank is known, said this week it's injecting about 20 billion riyals ($5.3 billion) in the banking sector in the form of deposits "on behalf of government entities." The move, which preceded a surprise agreement to cut oil output, aims to boost liquidity by making up for the drop in government deposits over the past two years.
Three charts illustrate why the government -- via the central bank -- took action.
Slowdown
With the riyal-dollar peg forcing the central bank to move in lockstep with the U.S. Federal Reserve, the kingdom is "in a bit of a bind" from the combination of slow growth at home and a trend toward higher interest rates in the U.S., said William Jackson, senior emerging markets economist at Capital Economics in London.

The drop in crude prices has squeezed both the state and private companies in Saudi Arabia, where more than 70 percent of government revenue comes from oil and companies rely heavily on public spending. Economic growth is expected to slow to 1.1 percent this year, according to a Bloomberg survey of economists, the worst since 2009.
"They cannot lower rates, so what's the best option?" said John Sfakianakis, director of economic research at the Gulf Research Center. "They need to pump liquidity into the system."
Withdrawals
In addition to drawing down its deposits in the banking system, the government has been selling bonds to local lenders each month to help plug its budget deficit. Bank claims on the public sector have doubled over the past year.
The central bank offered lenders 15 billion riyals in short-term loans in an earlier injection in June to help ease liquidity constraints, five people familiar with the matter said at the time. The regulator has repeatedly said it's committed to the currency peg, and this week it also introduced seven-day and 28-day repurchase agreements as part of a "supportive monetary policy."

Expensive Loans
The liquidity crunch has driven the three-month Saudi Interbank Offered Rate, a benchmark used to price loans, to its highest level since 2009.
"Public spending is being cut and public borrowing is rising sharply; it's inevitable that that puts upward pressure on rates," said Simon Williams, HSBC Holdings Plc's chief economist for central and eastern Europe, the Middle East and North Africa.

Impact
The bank is likely to continue to inject money into the banking system, spread over several months, said Sfakianakis at the Gulf Research Center Foundation.
Fahad Alturki, chief economist at Riyadh's Jadwa Investment, said that while the liquidity squeeze isn't yet alarming, the measures "will help a lot in alleviating any pressure." The kingdom's first international bond issue, said to be planned for early October, will also help to ease pressure on the cost of private sector borrowing, he said.
While this week's central bank steps will help, lending will remain subdued, said Williams at HSBC. "Rates are going to stay elevated, and growth is going to be weak and that's going to mean borrowers and lenders alike remain cautious," he said.
Before it's here, it's on the Bloomberg Terminal.
LEARN MORE