Sainsbury Sales Weaken as U.K. Grocer Pushes Lower Prices
by and
Same-store sales drop 1.1%, a slowdown from previous period

Supermarket's clothing business declines for first time ever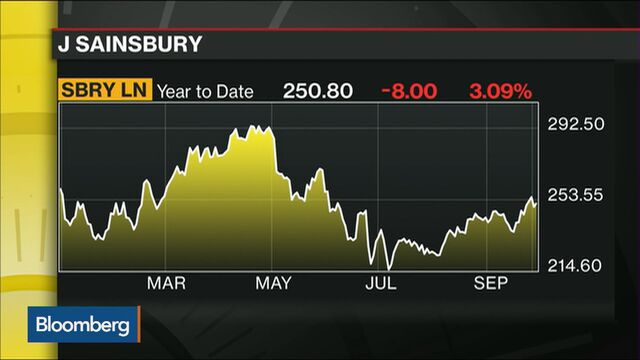 U.K. grocer J Sainsbury Plc reported slightly weaker sales as it offered customers fewer promotions on food and endured its first ever quarterly decline in clothing revenue.
Same-store sales fell 1.1 percent, excluding fuel, in the 16 weeks ended Sept. 24, the London-based company said Wednesday. That compares with the median analyst estimate for a 1 percent drop and the previous quarter's 0.8 percent decline.
The figures show that Britain's mainstream grocers continue to struggle in the face of an onslaught from discounters Aldi and Lidl. Like industry leader Tesco Plc, Sainsbury is reducing the number of promotional deals and offering lasting discounts on items such as pizza and diapers as it simplifies pricing and seeks to narrow the gap to the budget chains. The company is also reducing its reliance on food, this month completing the purchase of the Argos general-merchandise chain for 1.4 billion pounds ($1.8 billion).
"The brand has come down to earth with a bump," John Ibbotson, director of researcher Retail Vision, said by e-mail. "The abolition of multi-buy promotions and the introduction of simpler pricing looks distinctly underwhelming in the current brutal market conditions."
Sainsbury shares fell 0.6 percent to 249.1 pence at 8:44 a.m. in London. The decline in sales was driven by food price deflation, Coupe said in a statement, adding that transaction and volume numbers rose in the quarter.

The CEO said he expects the market to remain competitive, with Aldi declaring this week it will cut prices further if necessary. Recent permanent discounts by Sainsbury have included reducing a bag of three large onions to 80 pence from 1 pound. It's also lowered the price of a frozen deep-pan pizza to 90 pence from 1.30 pounds and a pack of Little Ones Newborn nappies to 2.50 pounds from 3.75 pounds.
"Our price position relevant to the discounters has never been sharper," Coupe said.
Clothing sales fell slightly in the quarter, the company said, the first ever decline in a market where an unseasonably hot end to summer also weighed on demand at retailers such as Next Plc and Primark.
Tougher Job
The CEO's job has been made harder by sterling's drop following the Brexit vote, which will push up purchasing costs.
"We expect the market to remain competitive and the effect of the devaluation of sterling remains unclear," Coupe said in the statement. Brexit hasn't impacted consumer spending, he said on a call with reporters.
Same-store sales at Argos rose 2.3 percent percent in the quarter, the company said. Coupe declined to elaborate on the chain's performance ahead of the release of Sainsbury's first-half results on Nov. 9.
Before it's here, it's on the Bloomberg Terminal.
LEARN MORE