Brexit Spurs 'Maximum Uncertainty,' Oaktree's Wintrob Says
By
U.S. election also adding to uncertainty for investors

Oaktree has lot of 'dry powder' for investments, Wintrob says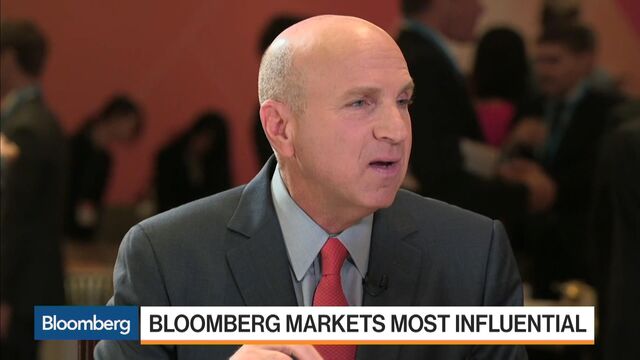 The world is at a point of almost "maximum uncertainty" after the U.K. voted to leave the European Union earlier this year, said Jay Wintrob, chief executive officer of Oaktree Capital Group LLC.
"The fact is that we just don't know how the actual negotiations for exit are going to turn out," Wintrob said in an interview with Bloomberg Television ahead of the Bloomberg Markets Most Influential conference in Hong Kong. "I'm guessing that many businesses, many companies, Oaktree included, are probably deferring decisions to invest in businesses, to invest in putting more people in the region until we know what is going to happen."
The Brexit referendum in June roiled stock markets and spurred warnings that the U.K.'s vote to leave the EU may trigger economic weakness and a decline in housing prices in London. Wintrob, during a panel discussion at the conference, said the market may be under-pricing the risks from Brexit.
Ample Liquidity
"The underpinnings of the market are ample liquidity provided by central banks," he said. "Is that covering up some of what's happening fundamentally, so we don't see it as clearly? Probably," Wintrob said at the conference.
Oaktree, based in Los Angeles, is the world's largest distressed-debt investor, overseeing $98 billion in distressed debt, private equity holdings, emerging-market stocks, real estate, infrastructure and energy-related assets.
The U.S. election is also adding to uncertainty, he said. Hillary Clinton and Donald Trump were locked in a tied two-way race for the presidency in the latest Bloomberg Politics national poll, conducted before Monday's first debate. The Democratic and Republican nominees each get 46 percent of likely voters in a head-to-head contest, while Trump gets 43 percent to Clinton's 41 percent when third-party candidates are included.
"I think uncertainty is the word," Wintrob said in the interview with Bloomberg TV. "There's uncertainty over who the next president of the United States is going to be, and then, at least with one of the candidates, there's a lot more uncertainty about what would happen if that candidate were elected as president of the United States."
Dry Powder
Wintrob said Oaktree has lots of "dry powder" to invest in regions, including China, when the opportunity arises. The firm's uncalled capital commitments, or investor money that's yet to be deployed, stood at a record $22.8 billion at the end of June.
Oaktree's investments in Asia trail the firm's fund-raising in the region, Wintrob said. About 10 percent of client assets come from Asia, while it has just 5 percent of assets deployed in the region, he said. The firm earlier this year invested in its first pool of Chinese non-performing loans by partnering with Shoreline Capital Management to buy assets in Shanghai, according to Wintrob.
"It's early in China for foreign investors. It's important in China to have strong local partners," he said in an interview. "Especially when you are purchasing distressed assets, it's important that the rules and regulations governing, for example, private contractual rights between creditors, are well understood and can confidently be enforced."
Before it's here, it's on the Bloomberg Terminal.
LEARN MORE