Orders for U.S. Durable Goods Were Little Changed in August
by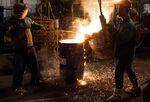 Orders for U.S. durable goods were little changed in August and shipments of capital equipment declined for a fourth straight month, indicating lingering weakness in manufacturing.
The latest reading for bookings of goods meant to last at least three years followed a 3.6 percent advance the prior month that was less than initially reported, Commerce Department data showed Wednesday in Washington. Sales of non-defense capital goods excluding aircraft, used in calculating gross domestic product, unexpectedly dropped 0.4 percent last month.
The series of declines in shipments of those goods indicates equipment investment may weigh on economic growth for a fourth straight quarter. While household demand is providing some relief for manufacturing, factory customers are still contending with high inventories relative to sales and overseas markets remain tepid.
"Business investment is just incredibly sluggish," said Omair Sharif, senior U.S. economist at Societe Generale in New York. "We're on track for it to be a drag on third-quarter growth. There's very little impetus for businesses to go out and make capital investments."
On a positive note, bookings for non-military capital goods excluding aircraft increased 0.6 percent in August, stronger than forecast and the third straight advance. At the same time, orders for July were revised down to a 0.8 percent advance compared with an initially reported 1.5 percent gain.
Orders for machinery, computers, fabricated metals and electrical equipment declined in August, while motor vehicle bookings climbed along with military hardware and communications gear.
The drop in shipments of non-defense goods excluding aircraft, which were projected to rise 0.1 percent, followed a 0.7 percent July decline that was worse than previously reported. They were down an annualized 5.1 percent over the latest three-month period.

The median forecast in the Bloomberg survey called for a 1.5 percent decrease in total durable goods, with estimates ranging from a 3 percent decline to a 2 percent advance.
The report also showed bookings for commercial aircraft fell 21.9 percent following a 73.7 percent surge in July. Boeing Co., the Chicago-based aerospace company, said it received 22 orders for aircraft in August, fewer than the 73 in the prior month.
Excluding transportation equipment, which is often volatile, orders fell 0.4 percent.
Orders for military capital equipment increased 23.6 percent, while demand for non-defense durable goods fell 1 percent.
Durable goods inventories rose 0.1 percent after a 0.4 percent gain, the first back-to-back increase since March-April of last year. Unfilled orders of big-ticket goods dropped for a third month.
Before it's here, it's on the Bloomberg Terminal.
LEARN MORE