Emerging Stocks Rise for Second Day as Oil Surge Lifts Producers
Elena Popina and Nguyen Kieu Giang
Energy stocks boost equity benchmarks in Russia, Brazil

Saudi index worst performer in world on austerity measures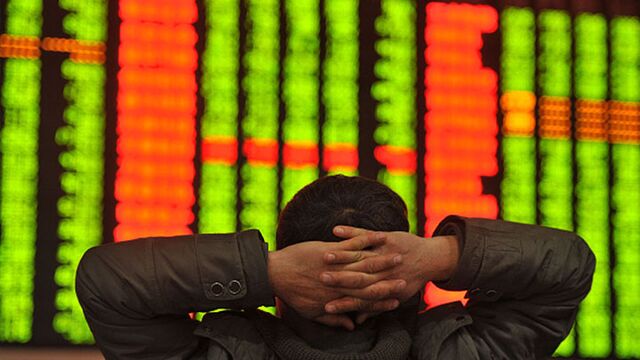 Emerging-market stocks rose for a second day as a surge in oil prices after OPEC members agreed on a preliminary deal to cut production boosted shares in energy-producing nations from Russia to Brazil.
The Micex Index ended a three-day decline in Moscow. The Ibovespa advanced for a second day as Brent crude sold for more than $48 a barrel. SABMiller Plc helped lift South Africa's benchmark to the first advance this week after investors approved a takeover by Anheuser-Busch InBev NV. Stocks in Saudi Arabia posted the steepest two-day slump since January amid concern austerity measures will curb growth, while people familiar with the matter said the kingdom's first international bond may be delayed. 
Gains in oil prices buoyed energy stocks as Iran's oil minister said the agreement calls for the group that supplies about 40 percent of the world's oil to cut production to a range of 32.5 to million barrels a day, the lower end of the target equating to a nearly 750,000-barrels-a day drop from from what it pumped in August. The MSCI Emerging Markets Index gained 0.1 percent to 912.19, pushing the two-day advance to 0.7 percent. The gauge has jumped 9.4 percent since the end of June.
"The big issue was that the oil supply has remained stubbornly high as the price production has come down, so the OPEC deal, if enforced, will be great for counties from Russia to Brazil," Timothy Ghriskey, who helps manage $1.5 billion as chief investment officer at Solaris Asset Management LLC in New York. "The hope is that an increase in oil prices will boost the weak economies of some of the biggest emerging markets that heavily rely on oil for their budget revenue."

Brent crude surged 5.9 percent to $48.69 a barrel in London, the biggest one-day gain since April.
The MSCI Emerging Markets Index is headed for its best quarterly performance since 2012 as near-zero rates boosted demand for riskier assets and the Federal Reserve maintained its accommodative policy. The benchmark gauge is valued at 12.5 times the projected 12-month earnings if its members. That compares with a multiple of 16.1 for the MSCI World Index of developed-nation stocks, which has increased 4.4 percent since the end of June.
The Micex Index added 0.3 percent on Wednesday. Novatek OJSC, a natural-gas producer, rose 1 percent. The Ibovespa gained 1.7 percent, with state-controlled oil producer Petroleo Brasileiro SA contributing the most to the advance, rallying 5.6 percent.
South Africa, Saudi
The FTSE/JSE Africa All Share Index jumped 1.7 percent. SABMiller climbed 1.6 percent after shareholders voted 95.46 percent in favor of the $10 billion takeover by AB InBev. Steinhoff International Holdings NV rallied 6.2 percent after saying it planned to raise as much as 2.4 billion euros ($2.7 billion) to repay money that the furniture and clothing retailer borrowed for recent acquisitions.
Bulgarian equities jumped 3.4 percent, the most in two years, after the country's first exchange-traded fund began trading in Sofia on Tuesday.
The Tadawul All Share Index tumbled 3.4 percent, bringing its two-day slump to 7.1 percent. Saudi Arabia said this week it will curb state employees' allowances and cancel bonus payments.
Currencies
The MSCI Emerging Markets Currency Index slipped less than 0.1 percent after adding 0.3 percent on Tuesday. The measure is up 2.2 percent since the end of June, on track for a third quarterly rally.
Russia's ruble led gains among currencies Wednesday, strengthening 1.3 percent against the dollar. Oil is the country's biggest export. The South African rand weakened 1.3 percent, the biggest decline in 24 emerging markets.
The premium investors demand to hold emerging-market bonds over U.S. Treasuries narrowed three basis points to 338, according to JPMorgan Chase & Co. indexes.
Turkish bonds advanced for a second day, sending the yield on 10-year notes down 10 basis points to 9.58 percent. Bonds have recouped more than half of their losses this week after Moody's Investors Service service downgraded the country's debt to junk.
Before it's here, it's on the Bloomberg Terminal.
LEARN MORE