Morgan Stanley's Gorman Says Top Risks Are Fed, Elections, China
by and
China's economy is 'the big enchilada,' CEO says in interview

Morgan Stanley's relationship with Deutsche Bank is unchanged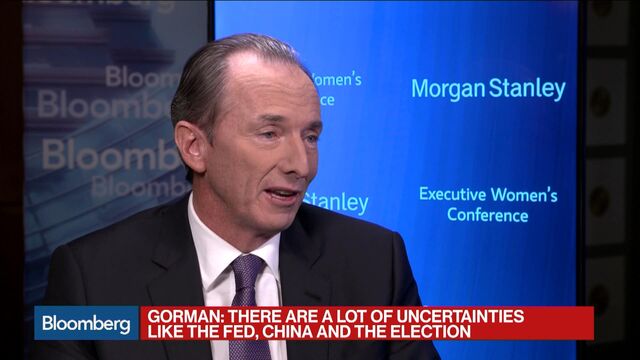 The top three risks threatening global markets are the U.S. elections, the Chinese economy and the Federal Reserve's decision on when to raise interest rates, Morgan Stanley Chief Executive Officer James Gorman said.
"The election is going to happen, the Fed is either going to move or not move on interest rates and the Chinese economy is the big enchilada," Gorman said Wednesday in a Bloomberg Television interview.
Gorman said he expects the Fed to raise interest rates in December, and is watching to see how Chinese leaders adapt to an economy that's less reliant on exports. He's positioned conservatively and prepared for volatile markets, the CEO said.
"This is what markets do," Gorman, 58, said. "If it was so simple and went in a straight line, everybody would make money all the time, or actually nobody would make money."
Global banks and asset managers in London are under pressure to start shifting personnel after Britain voted in June to leave the European Union. With terms for the split uncertain, firms are starting to draft contingency plans and scouting the Continent for office space. While Gorman didn't list Brexit among the top three risks, he said it's among the top 10. He said he's studying which jobs will have to shift and listed Frankfurt and Paris as possible destinations.
"We're already there, it's just a matter of how you move some of those resources," Gorman said. "London is and remains the key financial center for us across Europe."
Deutsche Bank
Morgan Stanley's relationship with Deutsche Bank AG hasn't changed, Gorman said, even as Germany's biggest bank has been dogged by concerns this month that it will need to tap investors for more money as it seeks to settle a U.S. Justice Department probe into the sale of mortgage-backed securities. European lenders have been slower than those in the U.S. to restructure since the global financial crisis, Gorman said.
"We went through this kind of situation several years ago," he said. "They're working their way through this. It's going to be messy."
Before it's here, it's on the Bloomberg Terminal.
LEARN MORE