Leaders Summit Doomed as India Pulls Out to Isolate Pakistan
By
Modi will skip SAARC meet, examining bilateral water treaty

Moves come after deadly strike in Kashmir raised tensions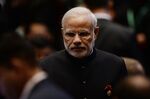 Indian Prime Minister Narendra Modi stepped up his diplomatic effort to isolate Pakistan by pulling out of a high-profile regional summit two months before its scheduled start.
"Increasing cross-border terrorist attacks in the region and growing interference in the internal affairs of members states by one country have created an environment that is not conducive to the successful holding of the 19th SAARC Summit," the Foreign Ministry said in a statement posted on Twitter by spokesman Vikas Swarup on Tuesday.
The withdrawal of the region's largest economy jeopardizes the meeting of the South Asian Association for Regional Cooperation, whose members include Afghanistan, Bangladesh, Nepal, Sri Lanka, Bhutan and the Maldives. It comes after a deadly attack on an Indian army camp that Modi's administration blames on Pakistan, though Pakistani leaders have denied involvement.
Bangladesh has also pulled out, its State Minister for Foreign Affairs Mohammed Shahriar Alam told reporters in Dhaka. SAARC chair Nepal issued a statement late Wednesday saying it had been informed that Afghanistan and Bhutan would not take part in the meeting scheduled for November 9-10 in Islamabad.
'Act of War'
"We have taken this development seriously," the Nepalese foreign ministry said in the statement. "As the current chair of SAARC, the government of Nepal strongly urges that a conducive environment be created soon to ensure the participation of all member states in the 19th SAARC summit in line with the spirit of the SAARC charter."
Over the past week, Modi's government has pledged to reexamine a 1960 water-sharing treaty with Pakistan and made fiery speeches at the UN General Assembly as it looks for non-military options to pressure India's nuclear-armed neighbor. On Thursday it will review its 'most favored nation' trade status for Pakistan.
Any step to revoke the water treaty would be seen as an "act of war," Pakistan's foreign policy adviser Sartaj Aziz told lawmakers on Tuesday. A spokesman declined to comment further, referring to a statement issued late Tuesday that termed India's withdrawal from the SAARC summit as "unfortunate."
'Strategic Shift'
U.S. National Security Adviser Susan Rice called her Indian peer Ajit Doval and reiterated America's expectation that Pakistan act against terrorists, the White House said in a statement on Wednesday.
"What is happening now is a strategic shift in our policy toward Pakistan, something that was absent in the last 70-odd years," said Lalit Mansingh, a former Indian foreign secretary. "Before, they assumed that Indian leaders were not strong enough to take action. I think Modi is proving that enough is enough. We will take action. Starting with smaller measures that will pinch and then leading to larger measures."
To be sure, SAARC isn't the most productive of groupings. It represents one of the world's least integrated regions and trade between India and Pakistan was a minuscule $2.7 billion in 2015, less than 0.5 percent of India's combined commerce with other nations. SAARC members have met only 18 times in more than 30 years mostly because of the historical enmity between its largest members.
Previous Outreach
The move, however, contrasts sharply with Modi's outreach to Pakistan's government, including the invite to his inauguration in 2014, which Prime Minister Nawaz Sharif accepted. Sharif in 2013 became Pakistan's first leader to witness a democratic transfer of power, but the nation has been ruled for most of its history by the military that still wields great influence over policy.
"When Prime Minister Modi reached out to Prime Minister Sharif earlier in his term, he was banking on the Pakistani civilians having enough policy space to engage substantively with India," said Michael Kugelman, a senior associate at the Woodrow Wilson International Center for Scholars in Washington. "New Delhi has concluded that's no longer the case."
The latest tensions were triggered on Sept. 18, when four heavily-armed militants attacked an Indian army camp in the Kashmiri town of Uri, killing 18 Indian soldiers.
The strike will galvanize India's efforts to create a new eastward grouping, such as the Bay of Bengal Initiative for Multi-Sectoral Technical and Economic Cooperation, or BIMSTEC, said G. Parthasarathy, a former Indian high commissioner to Pakistan. That group includes Bangladesh, India, Myanmar, Sri Lanka, Thailand, Bhutan and Nepal.
"We've effectively bypassed Pakistan," Parthasarathy said. "It's part of a larger diplomatic strategy that was in the works -- and Uri has provided an additional impetus to move faster."
Before it's here, it's on the Bloomberg Terminal.
LEARN MORE