Japan Shares Drop as More Than Half the Topix Trades Ex-Dividend
by and
Topix index is on course for first quarterly gain this year

Toshiba jumps after doubling its operating profit forecast
Japanese shares fell as more than half the companies on the benchmark Topix index traded without the right to the next dividend payment.
Banks and exporters contributed the most to the gauge's decline Wednesday in Tokyo. Some 1,094 shares went ex-dividend on the 1,966-member measure, equating to a 11.15 point drag. One such company was Sumitomo Mitsui Financial Group Inc., Japan's second-biggest lender, which fell 4.1 percent including the impact of its 75 yen ($0.75) dividend.
| Security | Percent Change | Price |
| --- | --- | --- |
| Topix | -1.4% | 1,330.77 |
| Nikkei 225 | -1.3% | 16,465.40 |
| Yen-Dollar | -0.1% | 100.56 |
In Japan, a large number of stocks trade ex-dividend on the same day in March and September. Those shares begin trading with the amount of the dividend to be paid subtracted from their prices, potentially exacerbating declines. About half of the Topix's drop on Wednesday was due to its members' share prices being reduced to reflect the amount of dividends.
"There wasn't any new bad news, but the ex-dividend shares dragged the Nikkei 225 down by an extra 100 yen or so," said Hideyuki Suzuki, general manager at SBI Securities Co. in Tokyo. Investors will shift focus to the U.S. presidential election, the Tankan quarterly report of business confidence in Japan due in October, and corporate earnings, he said.
Global stocks rallied on Tuesday after U.S. presidential candidate Donald Trump appeared to lose his edge against Hillary Clinton in the first of three highly anticipated election debates. But confidence in risk assets remains jittery after concerns over the finances of Deutsche Bank AG, Germany's largest lender, triggered a selloff in financial stocks earlier this week.
"With big events behind us, and ahead of quarterly corporate earnings reports, participants are devoid of a mindset for any active stock investing," said Chihiro Ohta, a Tokyo-based senior strategist at SMBC Nikko Securities Inc. "As for the yen, the bigger trend is for the currency to strengthen. The Deutsche Bank problem has subsided for now, but if some issue surfaces again, it'll be a risk-off, yen-grab factor."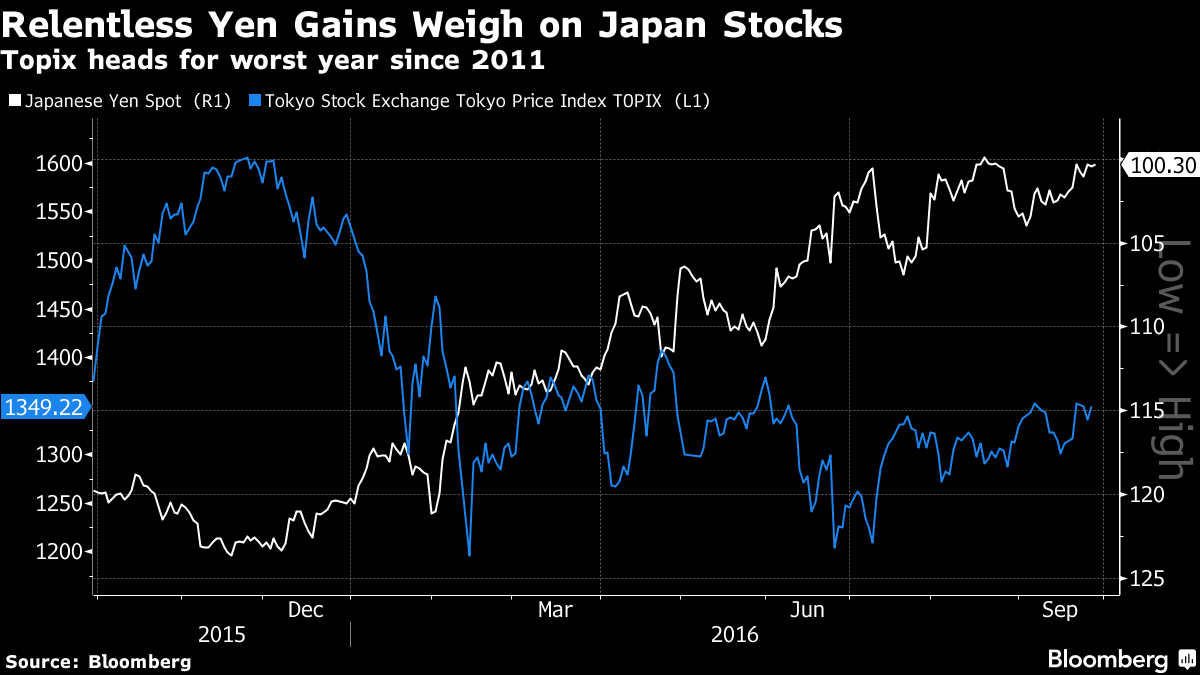 The Topix is down 14 percent this year, the third-worst performing developed-market equity measure, after the yen's almost 20 percent advance against the dollar damped the earnings outlook for the nation's exporters. Still, after two quarters of losses, the Topix is on course to gain 6.8 percent in the three months ending September, aided by the Bank of Japan, which decided to double its annual purchase of exchange-traded funds to 6 trillion yen in July.
All but three of the 33 industry groups on the Topix fell, with more than twice the number of shares dropping for each that rose.
Toshiba Corp. climbed 4.9 percent, rising the most on the Nikkei 225. The conglomerate doubled its first-half operating profit outlook, citing growth in sales of hard drives and smartphone memory.
Soft-drink distributors Coca-Cola West Co. and Coca-Cola East Japan Co. surged after SMBC Nikko Securities raised its ratings on both firms. The companies are in merger discussions, they said on Tuesday.
Honeys Co., a maker of women's clothing, sank 7.1 percent after the company reported a 4.5 percent decline in first-quarter operating profit from a year earlier. 
U.S. equities climbed on Tuesday after data showed American consumer confidence rose to the highest level since 2007, and after Deutsche Bank halted losses following a slump to a record low on speculation the lender will need to raise capital.
Before it's here, it's on the Bloomberg Terminal.
LEARN MORE