If Merkel Wants to Help Deutsche Bank, She Has Few Options: Q&A
By
CEO Cryan says accepting state support is out of the question

EU law limits what governments can do to help viable lenders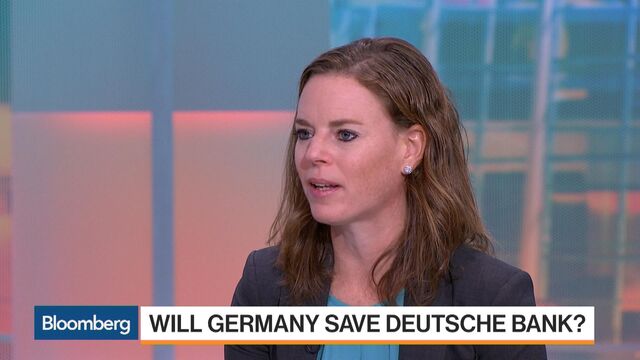 Investors in Deutsche Bank AG are looking to Berlin for an indication of what, if anything, German Chancellor Angela Merkel will do to shore up the lender whose shares have plummeted more than 50 percent this year.
The prospect of bailing out Deutsche Bank is politically noxious for Merkel, who's deciding whether to seek a fourth term in an election next year. After a magazine article stirred speculation, Merkel's spokesman said the government sees "no grounds" for talk of state funding for the bank as the U.S. seeks a multibillion-dollar fine.
That hasn't quelled expectations of a bailout. Andreas Utermann, chief investment officer of Allianz Global Investors AG, said for example that the German government would have to step in if Deutsche Bank "was really in trouble."
John Cryan, Deutsche Bank's chief executive officer, told the Bild newspaper that raising capital "is currently not an issue," and accepting government support is "out of the question for us."
Under European Union laws that Merkel championed to keep taxpayers off the hook in a crisis, it's now much more difficult for governments to prop up banks. For starters, the Bank Recovery and Resolution Directive, the cornerstone of Europe's efforts to tackle too-big-to-fail banks, assumes that the need for "extraordinary public financial support" indicates that a firm is "failing or likely to fail," triggering resolution.
State support for viable banks is tightly restricted, so if Merkel intervenes on Deutsche Bank's behalf, she'll be choosing from a small pool of options.
What do Merkel's allies think?
Lawmakers from Merkel's governing coalition said they expect the government to step in if Deutsche Bank were at risk of collapse due to a capital shortfall. At that point, the need for some kind of state intervention would outweigh calculations about the political fallout, according to four lawmakers from coalition parties who asked not to be identified discussing a scenario the government wants to avoid.
Some lawmakers in Berlin want Cryan to do more. Two of the legislators said the bank needs to restructure its business to make it less risky; one pointed to planned job cuts at Commerzbank AG as a possible model.
Can Germany take a stake in Deutsche Bank?
The answer is probably yes, assuming private investors are also buying and the government pays the going rate. The BRRD defines extraordinary support as state aid that distorts competition by favoring one company over others. If the European Commission, the EU's executive arm, found that the German government's actions passed this competition test, an equity stake might be permitted.
"If it's done at market conditions, it doesn't trigger the BRRD and it doesn't trigger the state-aid procedures," said Karel Lannoo, CEO of the Centre for European Policy Studies in Brussels. "If they can get that for 10 euros a share, well done. Then they can show the markets that the markets are entirely wrong."
What if more drastic action is needed?
If extraordinary support were required, the government would have three main options to help a viable bank and avoid triggering resolution, but the bar is high.
These options are only permitted to "remedy a serious disturbance in the economy of a member state and preserve financial stability." They must be of a precautionary and temporary nature, proportionate to the disturbance they're intended to quell and they can't be used to cover past or likely losses. They would also be subject to EU state-aid rules, which normally require shareholders and junior creditors to share losses.
If Germany passed all these tests, it could provide guarantees of new liabilities issued by Deutsche Bank and to back liquidity facilities provided by the central bank.
What if the government decided to take a larger stake?
To inject own funds into Deutsche Bank or purchase its capital instruments, the government would have to meet all the conditions laid out in the previous item and then some.
Most importantly, BRRD allows such support only to address a capital shortfall identified in a stress test or equivalent assessment. The transaction would also have to be done "at prices and on terms that do not confer an advantage upon the institution," the law states.