Hong Kong Faces Strife Without Popular Leader, Lawmaker Says
by and
Potential contender for top job speaks at Bloomberg forum

Spars with activist-turned-legislator over political system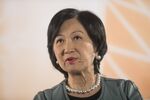 A potential contender for Hong Kong's top leadership post warned that the government risked "serious problems" if the city's next chief executive lacked broader credibility with the public.

Pro-establishment Legislator Regina Ip -- among the top vote-getters in legislative elections earlier this month -- made her remarks Wednesday during a panel discussion at the Bloomberg Markets Most Influential summit in Hong Kong. A fellow panelist, student-activist-turned-lawmaker Nathan Law, had criticized as undemocratic the system of allowing a committee of 1,200 largely pro-China electors to choose the city's top leader.
"I am all for further democratization of the system for electing the chief executive," said Ip, 66. "I agree that if the chief got elected by 1,200, but with inadequate credibility, Hong Kong's government will suffer serious problems."
Hong Kong faces growing dissatisfaction over China's stewardship of the former British colony, with pro-democracy protests blocking city streets for weeks in 2014 and the subsequent emergence of new groups advocating independence. The Sept. 4 legislative elections ushered in six new lawmakers seeking a sharper break with China -- including Law, 23, a former student protest leader who wants a referendum on Hong Kong's future.
The events have clouded the outlook for the city's unpopular leader, Leung Chun-ying, who has yet to say whether he'll seek a second five-year term as chief executive. In March, the 1,200-member nomination panel is slated to choose a leader, a process at the center of the 2014 Occupy protests.
Universal Suffrage
Ip supported a China-backed proposal that would've allowed the 1,200 electors to screen chief executive candidates who would then be put to a citywide vote. The legislation failed in the legislature last year, amid opposition from pro-democracy lawmakers who dismissed it as "fake universal suffrage."

Law, who'll be Hong Kong's youngest-ever legislator, said that giving the public a greater say was necessary to fulfill the "one country, two system" framework that guarantees the city freedom of expression, independent courts and a capitalist financial system until at least 2047.
"If we are back to the original idea, we could enjoy uniqueness and we could protect our system and have real checks and balance to those people who are using their power arbitrarily," Law said. He envisages a system where China handles the military and foreign affairs for the city and allows Hong Kong people decide local issues with no interference -- in other words, the "one country, two systems" framework that he says isn't being honored by Beijing.
To read more about Hong Kong's struggle for greater democracy, click here
The panel discussion on Hong Kong's future was the first public exchange between Ip and Law since the elections, in which they got the first and second most votes, respectively, on Hong Kong Island. They were joined on the panel by outgoing pro-democracy legislator, Alan Leong, 58. 

Ip is among a handful of pro-establishment politicians mentioned as viable alternatives to Leung. Others include Chief Secretary Carrie Lam, Financial Secretary John Tsang and outgoing Legislative Council President Jasper Tsang. The chief executive's approval rating fell to a record low of 37.6 out of 100 in September, according to a survey by the University of Hong Kong's Public Opinion Programme.
Asked whether she would seek the top job, Ip sidestepped the question. "I don't think I have rested enough," she said. "I need more time to rest and think, you know? It's been a very tough battle."
Whoever wins the post will face the same challenge as Leung's of squaring Beijing's agenda with Hong Kong's demands for greater autonomy. Ip said China acknowledged the tension with the city's system of government and called for more patience.
To that, outgoing lawmaker Leong responded: "I'm afraid patience is running out."
Before it's here, it's on the Bloomberg Terminal.
LEARN MORE