Yuan Derivatives Trade Dries Up as Drop Swells Hedging Costs
By
Currency swap costs above bond yield discourages foreign flows

Yuan interest-rate derivative trading falls 30% vs 2013: BIS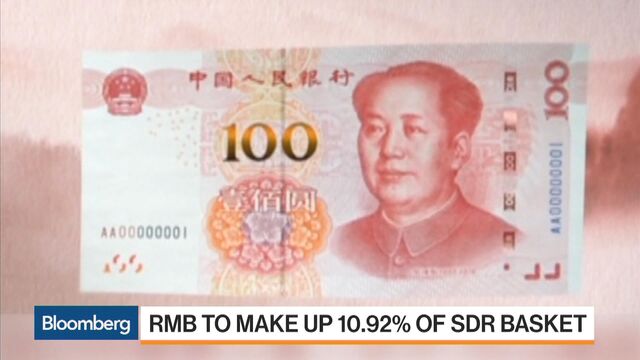 Hedging against further declines in Asia's worst-performing currency has become so expensive that some global investors are throwing in the towel on yuan bonds.
The cost of swapping dollars for China's currency has risen above the yields on onshore sovereign notes as depreciation extends into a third year. Daily trading in yuan derivatives, which accounts for more than 40 percent of the total for the currency, slumped 30 percent from three years earlier, data from the Bank for International Settlements show.
While central banks will need to buy the yuan as it becomes the International Monetary Fund's fifth reserve currency on Oct. 1, waning interest from global fund managers is a blow to an economy tackling an exodus of capital. Twenty-nine of 34 strategists surveyed by Bloomberg forecast depreciation in the coming year, despite China's efforts to open up the bond market and challenge the dominance of the greenback in global trade.
"Buying bonds and hedging the currency using a cross currency swap isn't attractive," said Rajeev de Mello, Singapore-based head of Asian fixed income at Schroder Investment Management Ltd., which oversees $460 billion of assets. "Foreign investors would rather not buy domestic bonds. The yuan's inclusion into the Special Drawing Rights basket will have a medium- to long-term effect on investor appetite."

Rising swap costs will slow a Chinese program to encourage inbound investing. The Renminbi Qualified Foreign Institutional Investors system, set up in 2011 to allow financial companies to establish yuan-denominated funds offshore to invest in mainland securities, has expanded 26 percent in the past year to 510 billion yuan ($76 billion).
The extra interest payments to lenders of offshore yuan in three-year cross currency swaps averaged 3.5 percent this year, up from a five-year average of 2.5 percent. That compares with the 2.38 percent yield on similar-maturity sovereign bonds onshore, which fell 17 basis points this year. In 2013 and 2014, the yield was higher than the swap cost. The onshore yuan, which fell 2.6 percent this year to 6.6690 per dollar despite intervention to slow the losses, will decline to 6.8 in a year's time, according to the median forecast in a Bloomberg survey.
"Market participants would like to sell the yuan until it reaches a level perceived by them to be fair," de Mello said. "Instead, these investors sell currency forwards and thereby drive up the offshore interest rates."
Swap Trading
Average daily turnover of yuan derivatives fell to $10 billion in April from $14 billion three years ago, the latest BIS triennial survey showed Sept. 1.
"We don't expect massive inflows from active funds," said Edmund Goh, a Kuala Lumpur-based investment manager at Aberdeen Asset Management. "I don't think the returns are superior. The cross currency swap is volatile and pricing can be messy."
The situation is unlikely to change until the yuan resumes appreciation or the central bank tightens monetary policy, he said, adding that this is unlikely in the near term given the economy is growing at the slowest pace since the 1990s.
Foreign holdings of yuan assets in stocks, bonds, loans and deposits slumped to 3.4 trillion yuan in June, down 26 percent from a year earlier, according to CEIC Data. Bonds held by overseas entities remained little changed at 764 billion yuan. Central bank buying took up some of the slack, with treasury bonds owned by external institutions rising 45 percent in August from a year earlier to 345 billion yuan, Chinabond data show.
"Most of the initial demand after SDR inclusion will be from sovereign investors that have a set desire or obligation to own renminbi," said Sacha Tihanyi, a senior emerging-market strategist at TD Securities LLC in New York. "For them, the swap rate and lower yield on government bonds wouldn't be a concern. For the more speculative community, however, it may be a disincentive."
— With assistance by Alvin Giang
Before it's here, it's on the Bloomberg Terminal.
LEARN MORE