business
Hedge Fund Legend Says the Industry Is Facing the Most Difficult Era Ever
By
Longtime manager says '2 and 20' structure isn't sacrosanct

Industry can help shield portfolios in coming bubble, he says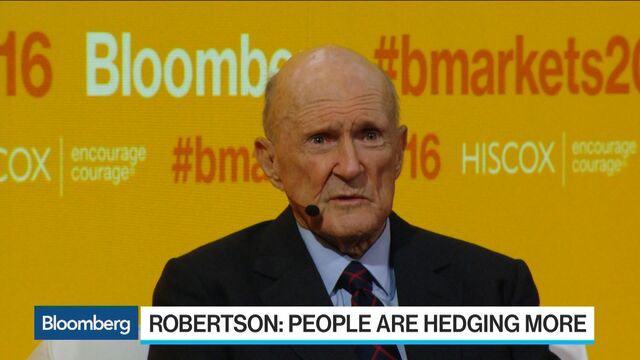 Hedge funds are facing the most challenging time Tiger Management's Julian Robertson said he's seen in an investing career spanning several decades, and the industry pioneer cautioned that their days of charging hefty fees may be over.
"That type of business hasn't worked lately, and it's a tough business," Robertson, 84, said Tuesday on a prime-time edition of Bloomberg Surveillance in New York. "It's tougher to be a hedge fund investor than ever before."

Robertson, who founded Tiger in 1980 and turned it into one of the world's largest hedge funds, said ultra-low interest rates and swollen stock-market valuations are crimping returns for the managers, whose portfolios are designed to outperform during a downturn. The $2.9 trillion industry, which returned 3.5 percent this year through August, has underperformed the S&P 500 index every year since 2008.
Hurt by the lackluster returns, the industry is struggling to justify its traditional payment structure of an annual management fee of 2 percent of assets and a performance fee of 20 percent of gains. A survey released last week by Preqin Ltd. found that 73 percent of institutional investors said management fees need to fall further over the next year, and more than half said performance fees should drop.
"I don't think 2 and 20 is sacrosanct," said Robertson, who has run his own money since he returned clients' capital in 2000. "There's a distinct drift occurring in the fee structure."
Bubble Protection
Still, investors should maintain a portion of their portfolio in hedge funds to help protect against a bubble that's grown in equities because of the Federal Reserve's decision to maintain historically low interest rates, said Robertson. Once it bursts, he expects real estate will also be hit.
Fed Chair Janet Yellen "is just unwilling to see the American public take any pain at all and because of that I think she's creating a serious bubble where serious pain is coming," he said. "If we have that bubble burst, you're not going to make any money in the stock market unless you're short and unless you're in some sort of hedge fund."
While the billionaire also cautioned that young job-seekers should avoid industries that have become overly popular like hedge funds, he said his practice of seeding a newer generation of managers -- which he's done since opening his family office -- is still one of his favorite things to do. The managers, nicknamed "Tiger Cubs," include Chase Coleman at Tiger Global Management, Stephen Mandel at Lone Pine Capital and Lee Ainslie at Maverick Capital.
"I still think that the good people will do well," Robertson said.
Trump, Johnson
Asked about the U.S. presidential election, Robertson had kind words for Republican nominee Donald Trump but said he won't be voting for him.
"I know Donald and I like Donald, and I really respect the Wollman Rink, which he's put back in Central Park," Robertson said, referring to the New York ice-skating rink Trump renovated in the 1980s. "But I'm out of that race. I'm going to vote for the former governor of New Mexico and the former governor of Massachusetts."
Watch Next: Balancing Low Rates and a Strong U.S. Economy Outlook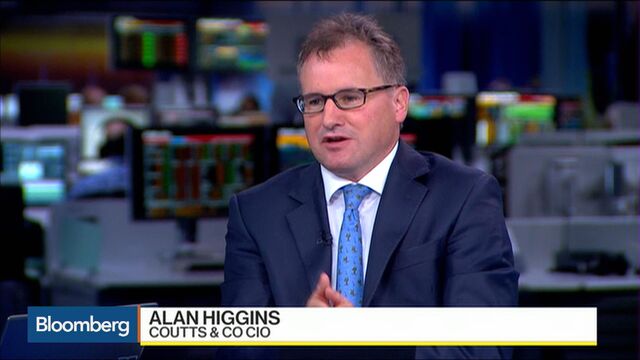 Gary Johnson, the ex-governor of New Mexico, and his running mate William Weld, from Massachusetts, are representing the Libertarian Party in this year's race.
Before it's here, it's on the Bloomberg Terminal.
LEARN MORE