Photographer: Hannah Elliott/Bloomberg
Cars
Get the Thrill of Driving a 1964 Shelby Daytona Coupe Without the Upkeep Hassle
A new Shelby Cobra Daytona Coupe CSX900 from the contemporary carmaker Superperformance has vintage style and performance, with modern comforts and sustainability.
By
Here's an easy way to own a cool vintage car without the maintenance hassles: Spend $109,900 on a Shelby Cobra Daytona Coupe by Superformance.
I drove a blue- and racing-white-striped Shelby Cobra Daytona Coupe CSX9000 Series last week on the winding, hilly back roads of Bear Mountain State Park, two hours north of New York. (This one cost $180,000 with all the options it had on it.) It was like stepping back in time, to an era when cars were blunt, beautiful objects of power and sound and grit.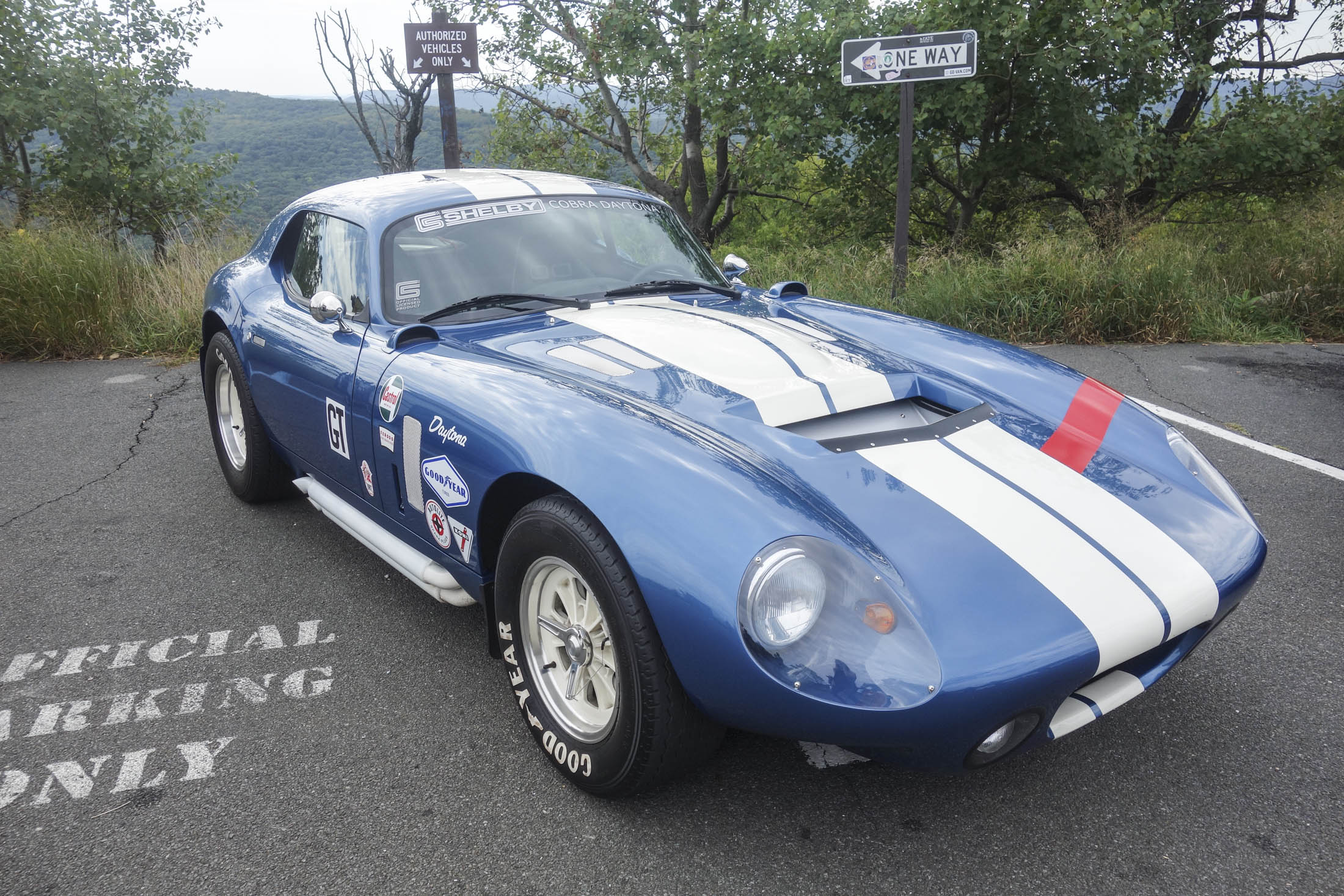 Many people know the story of the Ford GT40, the racing coupe Ford built in the 1960s that would finally beat Ferrari at the prestigious 24 Hours of Le Mans car race. 
The original Shelby Daytona Coupe had the same purpose. Designers Peter Brock (body) and Bob Negstad (chassis) and a team led by Phil Remington made just six prototypes between 1963 and 1965 in Carroll Shelby's Venice, Calif., shop; they were intended to beat the Ferrari 250 GTO that had been dominating endurance race courses across Europe. Shelby's team announced them in 1964 and choose the name because of the likelihood that they would debut on the raceway down in Daytona, Fla. It proved successful: The Daytona coupe beat all others in the GT racing class in Le Mans in 1964 (it took fourth, overall) and in 1965 won eight of the 11 races it entered. It was the first and only American-made car to win the World Manufacturer's Championship for Grand Touring race cars. 

These days, you can find versions made after that historic year for five and six figures, but the best ones go for more than $1 million. According to Hagerty numbers, the value of one of the original six is much, much higher: $22 million.
The Best of Old and New

Superformance was founded in 1996 to make vintage-looking cars such as the Shelby Daytona coupe, which uses modern parts and a Ford Windsor engine. If you get the chance even just to drive one of these Superformance "new old" models, consider it a rare treat. As I said, this is the best way to access the racing thrill of an original Shelby Cobra Daytona without having to deal with the intense maintenance required of vintage cars—or having to fork out a million dollars in cash.
The cars are eligible for the Shelby American Automobile Club owners registry and endorsed by Carroll Shelby himself: "It's not a true Shelby, but I've endorsed and licensed the car for being as close to correct and well-built as possible," he told Octane magazine in 2006. South African entrepreneur and Superformance Chief Executive Officer Lance Stander has been making them for 22 years in a factory in South Africa. I drove a little silver Shelby Cobra roadster last year in Los Angeles, and it was the most fun I had driving anything in 2015.

The one I drove last week came with a brand-new Ford 351 Windsor V8 engine (the same series used in everything from Ford Mustangs to F-150 trucks) tuned to 525 horsepower and with a fully independent front and rear suspension. The chassis and body were designed by Bob Negstad and Peter Brock—the original design team from 1964. Coil over shocks and springs as well as front and rear sway bars specifically designed for Superformance come as standard equipment. It had a six-speed Tremec T56 transmission (a five-speed is also available) and four-wheel vented disc brakes with power-assisted calipers. Top speed on the car's gauge is more than 160 miles per hour, though one spokesman from the company told me it will hit more than 200mph. I, at least, got it to 60mph in just under four seconds. (It weighs only 2,600 pounds, after all—way less than a Porsche 911.)
What's more, the Daytona coupe has the same lithe aluminum (or fiberglass—you pick) body, a Shelby chassis, and sharp Kamm tail as the originals; it also, like them, has a lower center of gravity and less drag than a roadster open-top car, which gave them a competitive edge in races. You can feel it when you drive it. Superformance-added 18-inch alloy wheels and ceramic-coated headers and pipes along the side give it more of a look of ragged, mean substance than similarly powered European counterparts have.

Raw and Powerful and Precise to Drive
To start the car, I flipped a few ignition switches and then pushed the gas a little to coax it to ignite. If I hadn't already gathered total attention from bystanders just walking up to it, the guttural roar of the engine commanded the rest.

Thanks to Stander's modern transmission system, easing into first and then second gear took only the same diligence you'd apply to a modern manual; the car followed its long nose around the first bend, then the second, with serpentine grace. In a nod to modernity, power steering comes standard.
In fact, the Shelby Cobra Daytona by Superformance was easy to drive, all things considered. It rewarded me well for my efforts. The power steering is precise, like a scalpel, and just as cutting; the clutch has some weight to it but doesn't require gargantuan calf strength to operate. This is the rawest driving experience—even with the power steering—that I've had all year; it's just the nature of a car that was built 50 years ago to beat a Ferrari. Thanks to safety and emissions standards, most cars made today feel castrated by comparison.

Inside the Best of American Racing History
Inside the Shelby Daytona coupe, you can choose to have leather and alcantara trim, tinted windows, and even air conditioning, which you will need if you intend to drive this racer anywhere for long. It gets hot. I was thankful to find plenty of room inside to stretch my legs—the seat is adjustable and would fit even a man around 6 foot, 4 inches or so, which is more than can be said for plenty of other vintage racers.

It's the details, though, that will impress your friends the most when you let them ride with you: the Shelby Cobra badges inside, the fire extinguisher, the rivets along the seats, and the signature of Brock himself on the dash. A lockable dashboard glove box; a remote immobilizer, remote central locking, and alloy exterior "Shelby" door handles all come standard. The sight lines out the glass back were better than those of the Ford GT40 I had running with me, and the Goodyear spare tire completes the total vintage dream look.
In short: I highly recommend the car for people who can afford it, who love the vintage look, and want to drive their special cars rather than leave them in a garage most of the time. (One owner I drove with last week told me his maintenance extends to "changing the oil once a year.")

You can buy one of your own from company headquarters in Irvine, Calif., or from dealers in Europe, Africa, South America, Asia, and Australia. It comes in a dozen standard colors, or you can decree your own. That's if you get your name on the waiting list quickly enough; most people will have to wait nearly a year if they want one totally bespoke to their standards. It's worth the wait.



Before it's here, it's on the Bloomberg Terminal.
LEARN MORE