Deutsche Post Hits at Royal Mail With $316 Million U.K. Deal
By
UK Mail purchase marks German company's return to Britain

Takeover will bring 50 depots, 2,400 delivery vehicles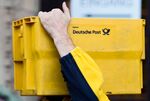 Deutsche Post AG agreed to buy independent British letter and parcel delivery service UK Mail Group Plc in an effort to boost its presence in a market dominated by former state behemoth Royal Mail Plc.
Deutsche Post will pay 440 pence per UK Mail share, valuing the deal at 242.7 million ($316 million), excluding debt, the Bonn, Germany-based company said Wednesday in an e-mailed statement. That's a premium of 43 percent to Tuesday's closing price.
Deutsche Post is seeking to extend its reach across Europe to tap surging demand for non-express deliveries as more people order household items online. It bought a stake in Relais Colis SAS of France in January and has parcels operations in 18 European countries, though lacks U.K. exposure after express-package unit DHL sold its U.K. domestic operations in 2010.
While UK Mail has only a 5 percent share of the regular U.K. parcels market dominated by Royal Mail, it has successfully shifted from a business-to-business to more consumer-oriented focus in line with demand, said Andy Jones and Damian Brewer, an analyst at RBC Capital Markets in London. Its also offers high delivery visibility, with live tracking and one-hour arrival slots, and tends to carry higher value items.
Letters Business
In the diminishing letters market, UK Mail and Whistl, a former unit of PostNL NV that was subject to a management buyout last year, together account for about 45 percent of volumes in terms of collection and sorting, though Royal Mail still makes almost all final deliveries under a state requirement, RBC said.
Deutsche Post board member Juergen Gerdes said in the release that UK Mail is a good fit with its operations and that the purchase will give the group "a strong foothold" in the U.K., Germany and France, which account for 60 percent of European online retail purchases.
UK Mail was founded as a courier and express-delivery service before listing on the London Stock Exchange as Business Post in 1993. The company changed its name in 2009 after deregulation of the U.K. market meant it was able to compete with Royal Mail in the regular letters and parcels market.
Royal Mail Slides
Shares of UK Mail, which has more than 50 depots and 2,400 delivery vehicles, traded up 133 pence at 440.50 pence, just above of the offer price, as of 11:37 a.m. in the U.K. capital.
The company, based in Slough, west of London, said its directors unanimously back the Deutsche Post deal, describing it as fair and reasonable and offering "significant synergy benefits" as the German group directs business its way.
Deutsche Post, which is about 20 percent state owned, traded 0.7 percent higher at 27.79 euros, while Royal Mail was priced 2.8 percent lower.
Royal Mail competes with Deutsche Post in the wider European market through its General Logistics Systems business. The 500-year-old service's ambitions have broadened since the government sold a 60 percent stake in 2013.
Before it's here, it's on the Bloomberg Terminal.
LEARN MORE