business
Deutsche Bank Troubles Dent Europe's Economic Engine
By and
Beleaguered companies damage Germany's role as European anchor

Corporate blow comes at key moment for nation and for region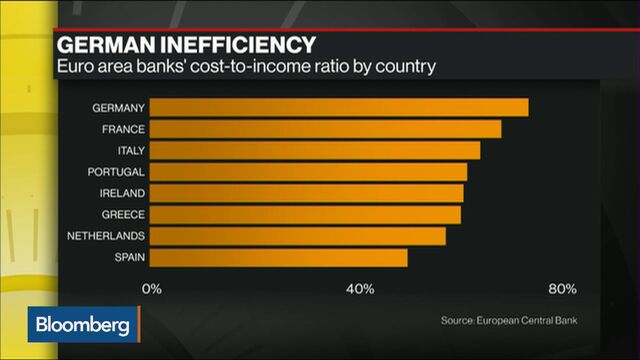 Germany is taking a battering just as the region needs Europe's economic and political powerhouse the most.
With Deutsche Bank AG and Volkswagen AG facing multi-billion-dollar bills in the U.S. for bad behavior, they risk undermining an economy that is one of the few centers of global growth. The transatlantic tussles coincide with Chancellor Angela Merkel's dimmed political fortunes, as an anti-immigration party to her right siphons off voters.

A further weakening of the two German stalwarts could impact growth at home and have ramifications outside the country, adding to economic concerns including subdued world demand and the fallout from the U.K.'s decision to leave the European Union. Deutsche Bank is the region's biggest investment bank, while VW is Europe's largest automaker. They directly employ more than 700,000 people, with nearly half those jobs in their home country.
"With two heavyweights shaking, that could lead to a setback in consumption and investment," said Horst Loechel, an economics professor at the Frankfurt School of Finance & Management. "These are extra burdens that clash together with all the shakiness in the global economy."

Deutsche Bank shares hit a record low Tuesday over concerns about its weakening financial position. The U.S. Justice Department, in an initial assessment, said it may force the lender to pay as much as $14 billion in penalties over mortgage-backed securities. Any settlement above 5.4 billion euros ($6 billion) would imply a capital increase is needed just to pay the fine, according to Andrew Lim, a Societe Generale SA analyst. Even before the latest crisis, Deutsche Bank was shrinking and eliminating jobs in a push to restore profitability.
The shares on Wednesday clawed back some of this week's losses -- rising as much as 3.8 percent-- after Chief Executive Officer John Cryan told Bild Zeitung that raising capital is "currently not an issue" and accepting government support is "out of the question." Merkel's spokesman on Monday also tried to stem financial speculation around the lender but not everyone is convinced.
"Regulators say in Germany they wouldn't step in, but I think they'd find it difficult not to find a solution if something ever happened," Martin Gilbert, CEO of Aberdeen Asset Management Plc, said in an interview with Francine Lacqua on Bloomberg Television. "Merkel is in a tough position. She can hardly say, 'I'm going to bail them out,' what with the election. But what they say and what they do are often different things."
Stabilizing Factors
With VW, the DOJ is assessing how much money can be extracted from the automaker for emissions cheating without putting it out of business, according to people familiar with the talks. The company, which has already agreed to pay an industry-record $16.5 billion to settle civil litigation in the U.S., also faces suits in Germany totaling 8.2 billion euros. The costs are eating into the 12-brand group's net liquidity, which stood at 28.8 billion euros at the end of June. VW is working to rein in costs, already announcing an effort to reduce investment spending at the namesake marque alone by 1 billion euros.
"We see not only with Deutsche Bank but also VW -- large companies in Germany that were always stabilizing factors, and hopefully that will remain the case -- that are currently under some pressure," Michael Grosse-Broemer, parliamentary whip of Merkel's CDU-CSU party caucus, told reporters in Berlin. "This, of course, causes a bit of concern. I hope that the German economy in these areas will return to its old strength."
Adding to the country's woes is Commerzbank AG, 15 percent owned by the government. The lender plans to eliminate 9,000 jobs and suspend dividend payments as part of an overhaul under new Chief Executive Officer Martin Zielke, Handelsblatt reported on Monday, citing unidentified sources. The planned measures, which will be implemented by 2020, will cost as much as 1 billion euros, the German business newspaper said. Germany's second-biggest bank has already eliminated 5,200 jobs and currently employs 50,000 people.
Mittelstand Support
The struggles of these large companies threaten to hurt small and medium-sized businesses, which are typically seen as the backbone of the economy and whose expansion has helped lead to record-low unemployment. VW, for example, feeds a major network of suppliers providing parts to the automaker around the country.
"As a general rule, one job at a manufacturer equals two-to-three at a supplier," said Willi Diez, head of the Institute for Automotive Economics in Geislingen, Germany. VW's "investments into research and development are significant too, also in a longer-term sense for Germany's economy."
Even so, the 3 million businesses -- known as the Mittelstand -- could also be Germany's salvation because they're generally well capitalized and maintain a stable workforce. More than 90 percent are family-owned, generating over half of private sector revenue and employing more than 50 percent of the workforce, according to the the Munich-based Family Business Foundation.
Confidence Resurgent
The Ifo institute's index of business confidence published on Monday surged to the highest level in more than two years, signaling that corporate concerns are easing. While the Bundesbank last week lowered its third-quarter outlook for the economy, it said the underlying economic trend is still "quite strong."
"The fundamentals of the economy are generally healthy," said Andreas Scheuerle, an economist at Dekabank in Frankfurt. "However, we are primarily an investment-goods producer, and if there are global risks fogging the outlook, this does not bode well for companies making investment decisions."
Troubles at the German businesses compound the list of concerns for Merkel as she weighs running for a fourth term. Her poll ratings have dropped over her handling of the refugee crisis and her party this month lost two state elections.
"External and internal risks have significantly risen," said Carsten Brzeski, chief economist at Ing-DiBa in Frankfurt. "We keep saying this or that risk will pull Germany into a recession, whether this be something like Volkswagen or Deutsche Bank. That's impossible to say, but what you do see is that this bliss is starting to show some cracks."
— With assistance by Arne Delfs, Alan Katz, Elisabeth Behrmann, and Tom Schoenberg
(
Updates with Cryan in sixth paragraph.
)
Before it's here, it's on the Bloomberg Terminal.
LEARN MORE