European Banks Hit as Deutsche Bank Travails Spook Investors
By and
Deutsche Bank shares tumbled to record low this week

Negative rates, bad loans, capital concerns dog industry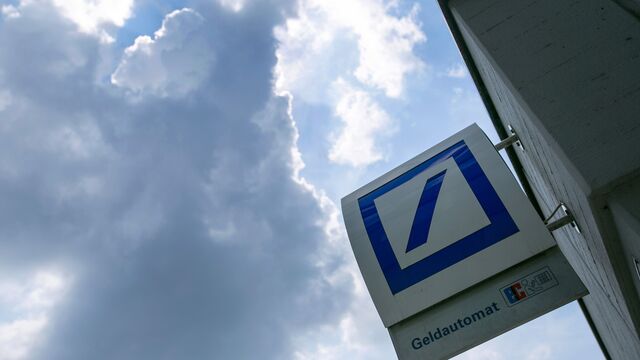 The turmoil swirling around Deutsche Bank AG has brought simmering concerns about the health of Europe's banks back to a boil.
Germany's largest lender hit a record low earlier this week, dragging down European financial stocks, after the U.S. Department of Justice requested $14 billion to settle claims tied to fraudulent mortgage-backed securities. While the bank said it won't pay anywhere close to that amount, the dust-up fueled doubts over its capital levels and refocused investors on the industry's faults.
"One word -- Deutsche," said David Moss, who helps to oversee more than $238 billion of assets at BMO Global Asset Management in London, when asked to sum up escalating concerns over European banks. "That's the biggest thing -- it's reignited the risk around regulation, fines and litigation."
Dismissing concern about the bank's finances, Chief Executive Officer John Cryan told Bild in an interview published late Tuesday that capital "is currently not an issue," and accepting government support is "out of the question for us." Those remarks helped lift Deutsche Bank shares as much as 4 percent on Wednesday.
Still, the bank is down about 18 percent this month, while Royal Bank of Scotland Group Plc -- which also faces a looming Justice Department fine -- fell 11 percent, and Italy's UniCredit SpA slumped 10 percent. The Bloomberg Europe 500 Banks and Financial Services Index declined 2.7 percent in September, making it the worst month since June, when Britain's vote to exit the European Union roiled markets and sent bank shares plunging.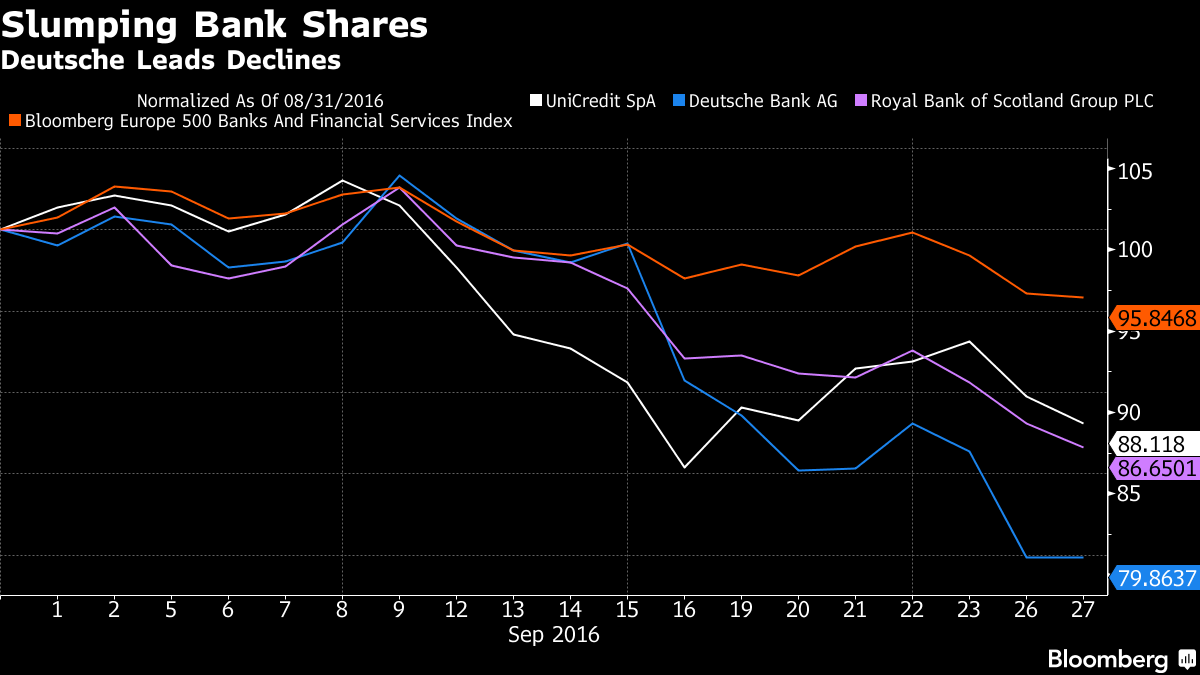 Royal Bank of Scotland will pay $1.1 billion to settle National Credit Union Administration claims stemming from the company's sale of mortgage-backed securities to two corporate credit unions, the regulator said on Tuesday. The settlement is substantially covered by existing provisions and will have no material impact on the RBS's CET1 ratio, the bank said in a separate statement.
European banks are grappling with tougher regulatory requirements, sputtering economic growth and negative interest rates, which squeeze lending margins and crimp investment returns. In Italy, where banks are burdened with some 360 billion euros ($404 billion) of soured loans, UniCredit is working on a plan to boost capital that may include asset sales and a stock offering, according to people familiar with the matter. In Germany, Commerzbank AG scaled back its full-year profit goals and may announce thousands of job cuts this week, said a person with knowledge of the matter.
'Difficult Cases'
"We're clearly in an environment of very low rates and this is weighing on the banking industry and especially on banks like Deutsche Bank and UniCredit, that need to reinforce their capital while profitability is under pressure," said Christian Sole, who helps manage about 100 billion euros at Candriam Investors Group in Brussels. "Unfortunately, some difficult cases are dragging down the whole sector."
Deutsche Bank, which runs Europe's largest investment bank, has struggled to adapt to an era of tougher capital requirements and diminished trading revenue. Since laying out his strategy last October, Cryan has cut risky assets, eliminated thousands of jobs and suspended dividend payments to conserve capital. 
The company agreed Wednesday to sell its U.K. insurance unit Abbey Life Assurance Co. to Phoenix Group Holdings for 935 million pounds ($1.2 billion). For Deutsche Bank, the sale will result in a pretax loss of about 800 million euros and a 10 basis point increase in its common equity Tier 1 ratio, the company said.
For a quick recap of Deutsche Bank's recent troubles, click here
Reaching a mortgage deal with the U.S. would clear a major hurdle for Deutsche Bank, which has paid more than $9 billion in fines and settlements since the start of 2008, according to data compiled by Bloomberg. Still, JPMorgan Chase & Co. analysts estimated that any agreement exceeding $4 billion would raise questions about Deutsche Bank's capital position. 
Hans Michelbach, a senior lawmaker in Chancellor Angela Merkel's party bloc, said it's "unimaginable" that the German government would support Deutsche Bank with taxpayer money because there would be a "public outcry."
"One big piece of potentially bad news has hit confidence in a space where investors were not very confident to begin with," said BMO's Moss.
— With assistance by Richard Partington, and Fabio Benedetti Valentini
Before it's here, it's on the Bloomberg Terminal.
LEARN MORE