Deutsche Bank Said to Face Hurdle Moving China Sale Proceeds
Bloomberg News
German lender raising up to $3.9 billion from Huaxia sale

Chinese currency regulator in talks with bank on moving money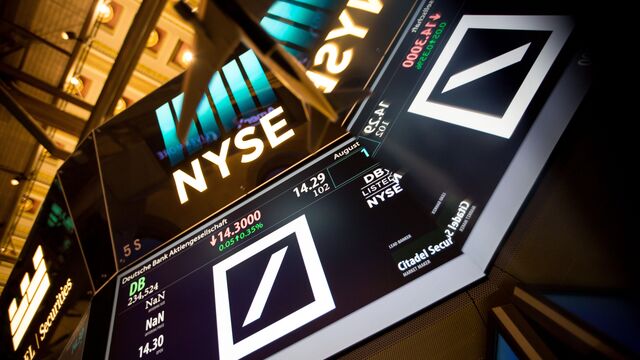 China's efforts to limit capital outflows that could weaken its currency are creating a potential headache for Deutsche Bank AG, which is selling a $3.9 billion stake in a Chinese lender and seeking permission to move proceeds offshore.
The State Administration of Foreign Exchange is reviewing applications to move large amounts of money on a case-by-case basis and its focus is on preserving currency stability, people with knowledge of the matter said. One option the regulator has proposed is for Deutsche Bank to remit the proceeds from selling its Huaxia Bank Co. holding in batches rather than in one go, the people said, asking not to be named as the informal discussions are private.
Deutsche Bank's deliberations underscore the hurdles companies face in China as regulators strengthen efforts to curb capital outflows that could trigger renewed pressure on the yuan. The talks come as the German lender also faces questions about whether it needs to raise fresh capital to pay fines, with the U.S. Department of Justice seeking $14 billion from Deutsche Bank to settle claims tied to fraudulent mortgage-backed securities.
"We are working closely with all relevant regulators towards a successful conclusion of this transaction, including offshore remittance of the proceeds of the sale," said Amy Chang, a spokeswoman for Deutsche Bank in Hong Kong. She declined to comment further on discussions with SAFE, or say whether the lender has already received the Huaxia payment from buyer PICC Property & Casualty Co.
Deutsche Bank Doesn't Need This Huaxia China Sale Hurdle: Gadfly
A person familiar with the matter said the ability to move the Huaxia proceeds offshore doesn't affect the positive impact of the sale on Deutsche Bank's capital ratio. PICC agreed to pay as much as 25.7 billion yuan ($3.9 billion) for the stake. The sale also needs final approval from the China Banking Regulatory Commission, the person said.
"SAFE hasn't received any relevant application," the currency regulator said in a e-mailed response to questions. Its policy on foreign-exchange management "hasn't changed," SAFE said.
SAFE subsequently said on its website that Chinese foreign-exchange regulators support an authentic, compliant cross-border equity transfer deal, and said media reports of its talks with Deutsche Bank are untrue, without elaborating.
Citigroup Proceeds
Deutsche Bank agreed in December to sell its 20 percent Huaxia holding as Chief Executive Officer John Cryan sought to bolster capital. Since then, investor concerns about the lender's financial health have deepened. The bank's shares dropped to a record low on Monday after a report that German Chancellor Angela Merkel had ruled out any state assistance. Cryan told Bild newspaper he hasn't sought government help and that raising capital "currently isn't an issue."
Why Deutsche Bank's Shares Fell to a Record Low: QuickTake Q&A
Any potential delays in remitting the money from China would mean Deutsche Bank couldn't immediately deploy the cash in bigger markets. The lender generated 277 million euros ($310 million) of revenue in China last year, less than 1 percent of the global total, according to its annual report.
Citigroup Inc., which agreed in February to sell its stake in China Guangfa Bank Co. for $3 billion, has already remitted the proceeds offshore in one batch, people with knowledge of the matter said. The U.S. bank received approval for the sale from the China Banking Regulatory Commission in July, according to one person. A spokesman for Citigroup declined to comment.
China Outflows

Any delays in getting the Huaxia proceeds out of China could expose Deutsche Bank to the risk of currency declines.
The yuan's 12-month non-deliverable forward contracts fell to a 2.9 percent discount to the spot rate earlier this month, indicating that traders were the most bearish since April. While the exchange rate has stabilized of late amid suspected central bank intervention, the median estimate in a Bloomberg survey is for the Chinese currency to weaken 1.2 percent against the dollar during the rest of this year.
A decline of that magnitude would cut the dollar value of Deutsche Bank's Huaxia stake by as much as $46 million, data compiled by Bloomberg show.
China's need for foreign investment suggests that Deutsche Bank will ultimately get approval to remit the proceeds of the Huaxia sale, according to Li Liuyang, a Shanghai-based market analyst at Bank of Tokyo-Mitsubishi UFJ. "If China wants to attract more direct investment as it opens up the capital account, China should resolve this smoothly," Li said.
Forex Disruptions
Mainland authorities may want to see Deutsche Bank convert the proceeds of the Huaxia sale in batches to avoid disruptions to the foreign-exchange markets, Li said. "But I think ultimately there will be a solution because this is a normal transaction to exit an investment," he added.
More than $900 billion left China last year, according to Bloomberg Intelligence estimates of capital flows. The data include exporters holding funds in dollars instead of converting them to yuan. Regulators moved to curb capital outflows this year after they triggered speculation that the yuan would drop further.
Complicating efforts to stabilize outflows, Chinese companies have announced $179 billion of acquisitions overseas so far in 2016, triple the year-earlier amount, according to data compiled by Bloomberg. In another example of escalating scrutiny, the investors making a $9.3 billion buyout of the New York-listed Qihoo 360 Technology Co. were asked to move the money from China in batches, delaying completion of the deal, people familiar with the matter said in June.
Capital Bump
Deutsche Bank was "highly confident" of closing the Huaxia deal in the second half, Chief Financial Officer Marcus Schenck said in July. The sale would add 40 to 50 basis points to the German lender's "fully loaded" core Tier 1 capital ratio, he said on a conference call at the time. Deutsche Bank's Tier 1 ratio, a key measure of financial strength, was 10.8 percent at the end of June. A three-month "approval period" for the Huaxia sale began June 24, Schenck said, without being more specific about the approval required.
Investors are concerned that the bank will need to raise fresh capital for costs including litigation. U.S. negotiations over a fine to be paid by the bank for selling fraudulent mortgage-backed securities have opened at $14 billion, more than double the amount that the lender has set aside for litigation. Deutsche Bank has said it won't pay anywhere near the amount the U.S. is seeking.
Investors got some relief on Wednesday after Deutsche Bank agreed to sell its U.K. insurance business for 935 million pounds ($1.2 billion), a move that will boost its Tier 1 ratio by 10 basis points. The lender's shares rebounded -- climbing 2 percent after losing a fifth of their value this month through Tuesday.
— With assistance by Justina Lee, Cathy Chan, and Steven Yang
Before it's here, it's on the Bloomberg Terminal.
LEARN MORE