Deutsche Bank Credit-Swap Trading Surges to Six-Month High
by
Contracts covering gross $843 million changed hands last week

Surge followed U.S. levying potential $14 billion fine on bank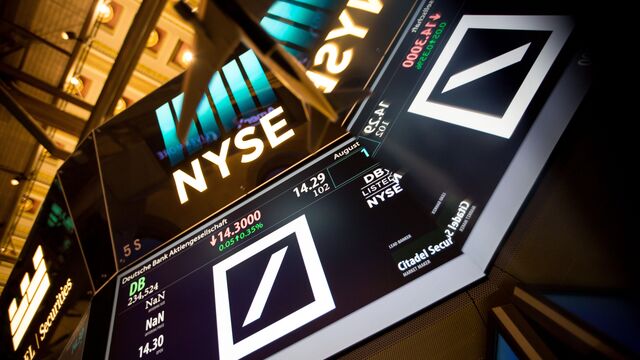 Trading of protection on Deutsche Bank AG debt surged to a six-month high after a potential $14 billion U.S. fine stoked concerns about the financial strength of Germany's biggest lender.
Credit-default swaps covering a gross $843 million of Deutsche Bank debt changed hands in the week ended Sept. 23, a surge of more than 60 percent from a week earlier and the fourth straight increase, according to Depository Trust & Clearing Corp. The cost of insuring the Frankfurt-based bank's subordinated bonds jumped to a record this week, while the senior contracts rose to near the highest this year, based on data compiled by CMA
The U.S. fine, related to mortgage-backed securities, has ratcheted up pressure on Deutsche Bank, as it struggles with volatile markets, negative interest rates and tougher regulations. Chief Executive Officer John Cryan is seeking to turn the bank around by cutting staff and shedding assets, including a deal announced on Wednesday to sell a U.K. insurance business.
"The size of the fine came as a shock to the market," said Filippo Alloatti, a senior credit analyst at Hermes Investment Management in London, which oversees 26 billion pounds ($34 billion) of assets. "If you hold Deutsche Bank bonds, it's easier to buy protection than sell into a rout."
Deutsche Bank has said it expects to settle the U.S. probe for significantly less than the initial Department of Justice proposal.
Abbey Life
Investor concerns eased on Wednesday after the lender agreed to sell its Abbey Life insurance operations for 935 million pounds and Cryan ruled out a capital increase. Senior credit-default swaps on the bank fell as much as 14.5 basis points to 236.5 basis points, while the subordinated contracts dropped as much as 25 basis points to 466 basis points, according to data from CMA.
Still, default swaps on Deutsche Bank's senior debt have surged about 25 basis points this month, the CMA prices show. Junior contracts have jumped about 50 basis points, the data show. Trading has surged from $51 million of gross debt in the week ended Aug. 26, according to DTCC.
There are a net $3.78 billion of credit swaps outstanding on Deutsche Bank, the most for any lender, according to DTCC. The figure declined from $3.87 billion a week earlier.
Deutsche Bank's riskiest bonds are changing hands at the fastest pace since February, according to Trax, a unit of trading platform MarketAxess Holdings Inc. Average daily trading in the lender's 6 percent additional Tier 1 bonds reached 8.6 million euros this month through Tuesday, Trax said. 
The notes, which are among the first to take losses in a crisis, are quoted at 74 cents on the euro, up from a seven-month low of 73 cents on Monday, according to data compiled by Bloomberg.
Before it's here, it's on the Bloomberg Terminal.
LEARN MORE