Credit Suisse, Barclays Said to Be in Mortgage-Settlement Talks
by and
U.S. agreement with Credit Suisse said to come in a few weeks

Deutsche Bank is among banks in talks to end crisis-era cases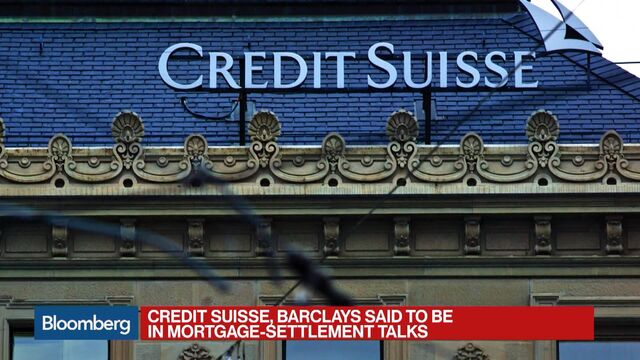 Deutsche Bank AG isn't the only lender wrestling with the U.S. to resolve an investigation into toxic mortgage bonds: Credit Suisse Group AG and Barclays Plc are also each in settlement talks with the Justice Department, according to people familiar with the matter.
A Credit Suisse deal could be announced within several weeks, one of the people said. The people all asked not to be named because the negotiations are confidential.
The talks bring to at least three the number of banks in active discussions to settle investigations into mortgage-backed securities dealings that sparked the 2008 financial crisis. The negotiations are taking place as one top official expressed exasperation, in a speech this week, over lack of cooperation from some lenders in the long-running civil investigation.
With about four months remaining before a new administration takes over, officials are eager to wrap up the pending cases, one of the people said. It's possible the talks could drag out or fall apart, sending the cases to civil trial. The figures under discussion with each bank couldn't immediately be learned. 
Credit Suisse, Barclays and the Justice Department declined to comment.
Six Settlements
The government already has secured $46 billion in penalties, compensation and consumer relief from six firms related to the marketing of mortgage-backed securities.
Credit Suisse, based in Zurich, has set aside 1.76 billion francs ($1.62 billion) to cover litigation expenses as of the end of the second quarter, according to quarterly filings. In addition to the mortgage-securities claims, the bank also faces allegations of rigging financial benchmarks and criminal complaints in Switzerland by clients. London-based Barclays has set aside 2.5 billion pounds ($3.3 billion) for investigations and litigation in the two years ended in June and hasn't specified a provision for a U.S. mortgage settlement.
In addition to the Justice Department claims, Credit Suisse is also fighting related lawsuits brought by the New York and New Jersey attorneys general that accuse the Swiss lender of misleading investors.

'Cloud of Uncertainty'
On Tuesday, Bill Baer, the Justice Department's No. 3 official, blamed banks that have already reached government settlements for not cooperating earlier and in more substantial ways, causing delays that led to higher penalties and legal fees. While Baer didn't discuss ongoing investigations or name specific banks, he put the onus on the financial institutions for the "cloud of uncertainty" that hung over their operations as a result.
Baer said banks can still help their cases by acknowledging responsibility and offering to help victims.
Investors were rattled by news this month that the U.S. asked Deutsche Bank for $14 billion to settle the allegations against it -- about three times as much as several analysts estimated the bank would end up paying. The offer, which was likely an opening bid rather than a final number, spooked investors worried about whether Deutsche Bank has set aside enough money for legal costs. The bank's shares hit an all-time low this week.
Deutsche Bank said it had "no intent" to agree to the Justice Department's $14 billion proposal.
Working Group
The government's investigations into mortgage-bond dealings stem from a working group of prosecutors and other officials that President Barack Obama created in 2012 to punish Wall Street for fueling the financial crisis by selling bonds linked to souring mortgages. The Justice Department had been criticized for years for not having brought significant cases against banks and their executives tied to the crisis.
JPMorgan Chase & Co., Citigroup Inc., Bank of America Corp., Morgan Stanley and Goldman Sachs Group Inc. have all settled residential mortgage-backed securities cases with the U.S., as has ratings company Standard & Poor's, a unit of McGraw Hill Financial Inc. 
In addition to Credit Suisse, Barclays and Deutsche Bank, banks that have disclosed U.S. investigations related to their mortgage securities businesses include UBS Group AG, Royal Bank of Scotland Group Plc, HSBC Holdings Plc and Wells Fargo & Co.
Goldman Sachs has said it fully cooperated with the Justice Department's investigation. Deutsche Bank, Citigroup, RBS and Wells Fargo declined to comment. JPMorgan, Morgan Stanley, Bank of America, HSBC and UBS didn't immediately respond to requests for comment.
Watch Next: Banking in Europe Essentially Unfixed, Says Blain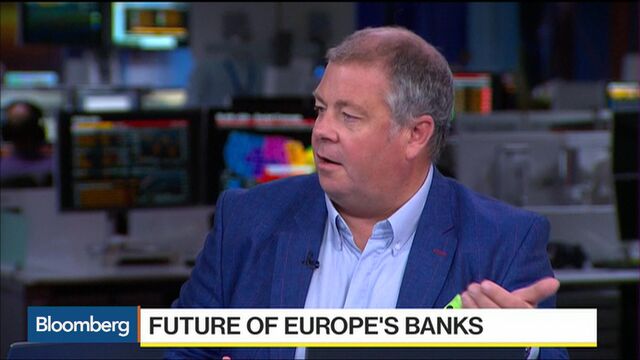 Before it's here, it's on the Bloomberg Terminal.
LEARN MORE