Corbyn: Would Ask Business to Pay More Tax to Fund Education
Thomas Penny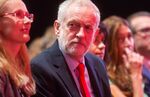 Jeremy Corbyn, leader of the U.K.'s opposition Labour Party, said business should contribute more to education in return for the benefit it receives from having a skilled workforce.
"Investment in capital must include investment in human capital, the skilled workers needed to make our economy a success," Corbyn told his party's conference in Liverpool, northwest England. "This is the deal Labour will offer to business: To help pay for a National Education Service, we will ask you pay a little more in tax."
The party has already said it will increase corporation tax to pay for financial support for college and university students.
"Business shares in economic success and it must contribute to it too," Corbyn said.
Before it's here, it's on the Bloomberg Terminal.
LEARN MORE