business
Corbyn: Labour Would Halt Arms Sales Over Abuses, War Crimes
Thomas Penny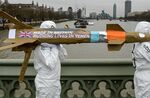 Jeremy Corbyn, leader of the U.K.'s opposition Labour Party, called for an end to arms sales to Saudi Arabia and said such deals should be linked to reports of human rights and war crimes.
"Britain continues to sell arms to Saudi Arabia, a country that the United Nations says is committing repeated violations of international humanitarian law and war crimes in Yemen, just as we have seen taking place in Syria," Corbyn told his party's conference in Liverpool, northwest England. "Under a Labour government, when there are credible reports of human rights abuses or war crimes being committed, British arms sales will be suspended, starting with Saudi Arabia."
Before it's here, it's on the Bloomberg Terminal.
LEARN MORE