markets
Citi Has Four Reasons Why It Hopes Disney Doesn't Buy Twitter
A slew of challenges await.
By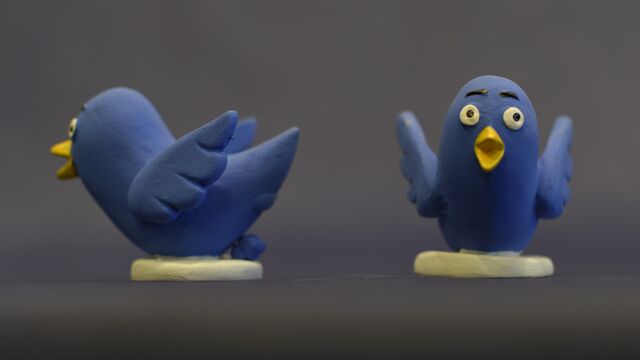 Not so fast.
While some investors may be cheering the potential of a Walt Disney Co. bid for Twitter Inc., the analysts at Citigroup Inc. don't seem to be fans. "Any way we slice the data, we just can't get enthusiastic about this potential transaction," the team, led by Jason Bazinet write. "As such, we're maintaining our 'buy' rating on Disney. But, that means we hope the press reports are wrong and Twitter is acquired by some other firm."
Earlier reports from Bloomberg say that Disney is one of a few recent firms showing interest in a potential bid for the troubled social media firm. Speculation gained steam last week when it was reported that Salesforce.com Inc. was interested. With Disney, the owner of ABC and ESPN, the benefits would likely come from having a new online outlet for entertainment, sports, and news. Jack Dorsey, chief executive officer of Twitter, is also on the board of Disney.
While shares of Twitter rose on the news, Disney saw its stock decline. 

Citi lists four reasons they believe buying Twitter is not in Disney's best interest.
Here's a quick summary:
1. Trouble with internet M&A
Previous mergers and acquisitions in the internet space examined by Citi yielded few media marriages that turned out well. "In the last 15 years, we cannot think of a single web-based property that was successfully acquired by a traditional media firm." Specific instances listed include AOL Inc. and Time Warner Inc., as well as MySpace Inc. and News Corp. 
2. Twitter has its challenges
This has been a story for quite some time, and is the reason shares of Twitter have been declining for a number of months. Unfortunately, Citi doesn't see these trends turning more positive anytime soon. From troubling user growth to management turnover, Twitter is under increasing scrutiny.
3. Yesterday won't be the first decline for Disney's stock
Citi ran the numbers on two scenarios: Disney buys Twitter all in cash or it buys Twitter all in stock. Either way, Citi believes shares of Disney would see declines as a results of the deal, with drops of $5 or $9, respectively. That represents a fall of nearly 10 percent in the worst case scenario. 
4. Disney can't do much to help Twitter
Lastly, Citi didn't see many ways for Disney to solve Twitter's problems. The team said that they believe Twitter and Yahoo! both lost money on the deal to stream NFL games online, which leads them to believe even more content on the social media platform won't necessarily benefit the company financially. 
"If history is any guide, Twitter entails significant risks for the buyer," they conclude. 
Twitter was cut to underperform at Mizuho Financial Group, Inc. today as the team said conditions at the firm have continued to deteriorate "significantly" over the past year. Twitter currently has seven 'buy' ratings, 25 'hold' recommendations, and nine 'sells' with an average 12-month price target of $16.72, according to data compiled by Bloomberg. Disney has 18 'buys,' 17 'holds.' and two sells with an average target of $108.27.
Before it's here, it's on the Bloomberg Terminal.
LEARN MORE