markets
Chinese State Media Say U.S. Debate Shows Vote Is 'Lose-Lose'
Bloomberg News
Chinese State Media Say U.S. Debate Shows Vote Is 'Lose-Lose'
Bloomberg News
Party paper report calls Trump nervous, Clinton well-prepared

Americans must pick the 'less worse' choice of candidates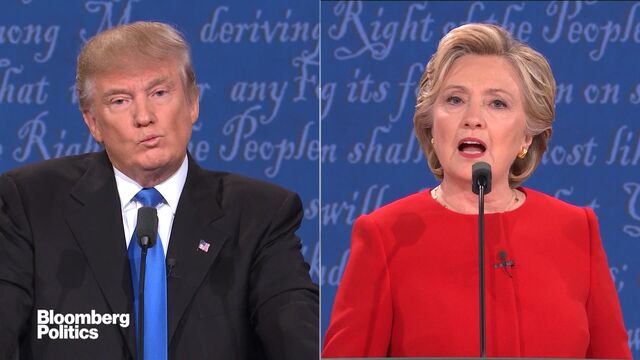 Chinese state media has declared the victor in Hillary Clinton and Donald Trump's first presidential debate: No one.
The election is a "lose-lose" battle that highlights the country's deepening political and social divides, the People's Daily said in a news analysis Wednesday. The candidates failed to raise new political arguments during the debate and they were merely "striking up an old tune," according to the official newspaper of the Communist Party of China.
Trump appeared "a bit nervous," talking quickly and acting aggressively, especially at the beginning, while Clinton was well-prepared and give more details about her policy proposals, according to the piece, which ran on page 21 of the paper.
Trump opened with a shot at China, accusing the biggest U.S. trading partner of "devaluing its currency" to gain an unfair advantage and using the U.S. as a "piggy bank" for its own development. That's at odds with the U.S. Treasury, which has dropped its view the yuan is "significantly undervalued," and the International Monetary Fund, which has said the yuan is "no longer undervalued."
Diao Daming, a researcher at the Chinese Academy of Social Sciences, said in an article carried by the official Xinhua News Agency that U.S. voters were increasingly disappointed by politics because they realized it was difficult to voice appeals and protect their interests.
"The next U.S. president will be either Trump or Clinton," Diao wrote. Referring to the Democrats and Republicans by their animal mascots, Diao said that "whoever wins, both the donkey and the elephant would have lost to the changing era and the eager public opinion calling for a change." 
The Global Times, a newspaper affiliated to the People's Daily that tends to provide a platform for more nationalistic views, said that Clinton and Trump have raised more suspicion among the public than any other candidates in history.
"It seems the U.S. is at such a crucial moment to decide which path to follow, but that's not the case," it said. Americans have no choice but to vote for a "less worse" one, instead of choosing a better president, it said.
China had earlier dismissed Trump's debate assertion that it held special sway over North Korea and should "go into" the country and solve the problem with Kim Jong Un's nuclear weapons program. 
"It's not China that caused the Korean nuclear issue in the first place, and it's not China that holds the key to the settlement of this issue," Ministry of Foreign Affairs spokesman Geng Shuang said Tuesday at a regular briefing in Beijing. "We have been striving for a proper settlement of the Korean nuclear issue along with all relevant parties."
— With assistance by Yinan Zhao